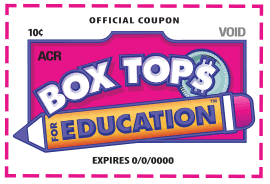 Box Tops for Education
Lori Kirtley
Tuesday, August 27, 2019
Did you know you can help Dwight Elementary earn money by turning in Box Tops from popular products that you buy each week?
Here are two ways you can help:
1. Cut the Box Tops off of your products and send them to school with your child.
or
2. Download the Box Top App and scan your store receipt within 14 days of your purchase. The app automatically finds participating products and our school will be credited instantly online!
Choose whichever way is easiest for you and help our school earn money! See the video below for more information!