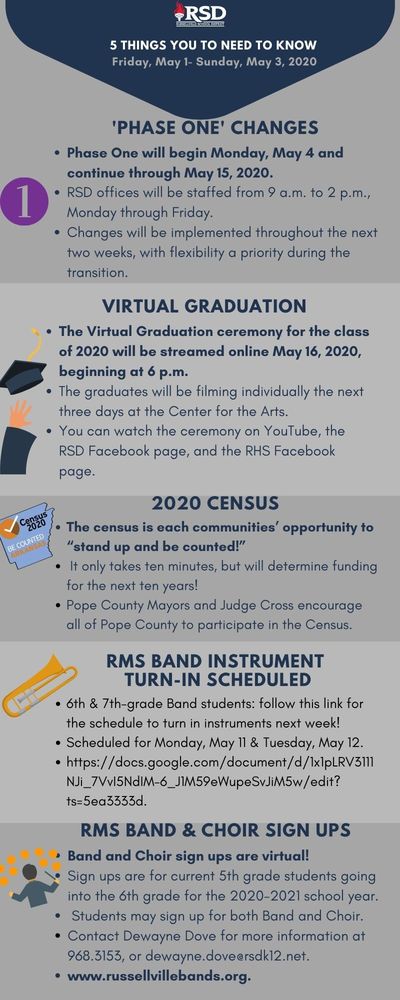 Here are five things to know from Superintendent Dr. Gotcher- May 1-3, 2020
Rachel Jones
Monday, May 04, 2020
Here are five things to know from Superintendent Dr. Gotcher- May 1-3, 2020-
1. Phase one changes for RSD will begin May 4 -15, and will begin with all school offices staffed from 9 a.m. to 2 p.m. Monday through Friday.
2. Virtual Graduation is scheduled for May 16, 2020 at 6 p.m. You can view the ceremony online via YouTube, RSD and RHS Facebook pages.
3. The 2020 Census is our community's opportunity to be counted, in order to receive funding for the next ten years! At this time Pope County has a 50.8% participation rate, and Judge Cross along with the Mayors of Pope county strongly encourage everyone to complete the census.
Follow this link to complete the 2020 census- https://2020census.gov.
4. RMS 6th and 7th grade band students are scheduled to turn in their instruments on Monday, May 11 and Tuesday, May 12.
Follow this link for the current schedule: https://docs.google.com/document/d/1x1pLRV3111NJi_7VvI5NdIM-6_J1M59eWupeSvJiM5w/edit?ts=5ea3333d.
5. RMS Band and Choir sign-ups are virtual this year. Students entering into 6th grade may sign up for Band, Choir, or both! Contact Dewayne Dove for more information and visit www.russellville bands.org.