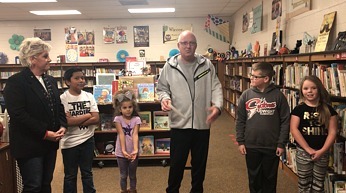 Downtown Rotary and Dwight Elementary
Lori Kirtley
Friday, December 08, 2017
Each year the Russellville Downtown Rotary Club partners with Dwight Elementary School. Rotary provides our school with food for our food backpack program as well as provides shoes for students. Rotary helps pay for field trips that our students take each year. They also provide each third grade student with their very own dictionary.
Each October Rotary and Dwight Elementary partner up for the annual Pork Fest Fundraiser. This is a very large fundraiser and it takes many volunteers to make this a success each year! Rotary generously donates half of the proceeds to our school. This year, members presented Dwight Elementary with a check for over $6,000.
Dwight Elementary is very thankful for the wonderful partnership we have with the Russellville Downtown Rotary Club.