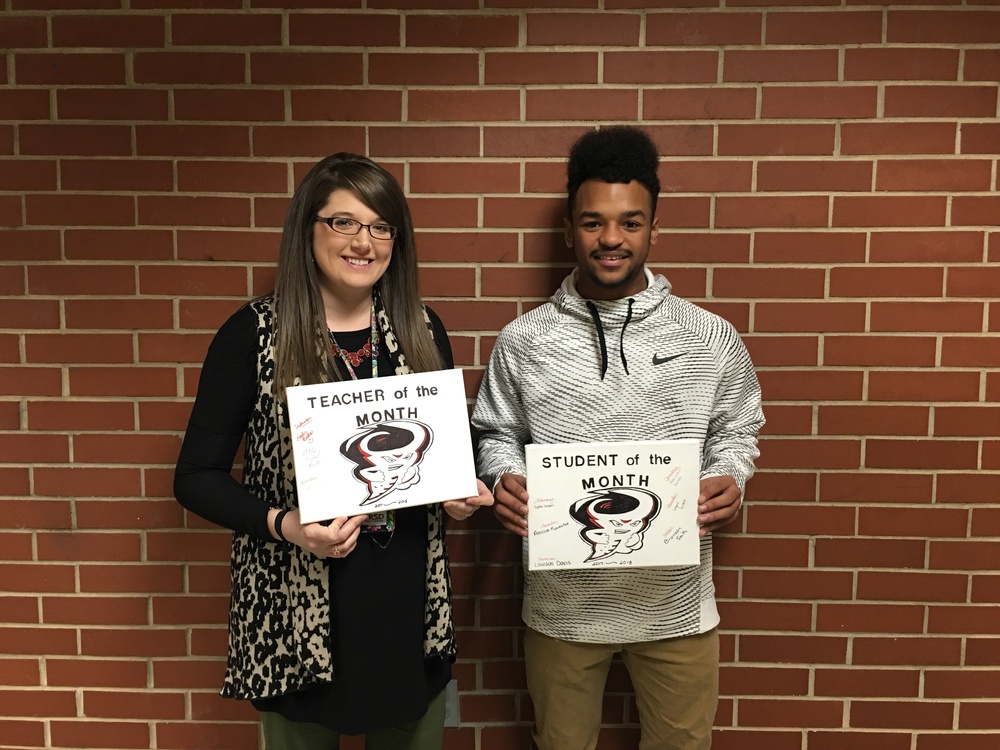 January Teacher and Student of the Month
Jessica Baldwin
Wednesday, February 07, 2018
Tiana Goodson is the January Teacher of the Month! She teaches 9th grade PLTW classes. She was nominated by a fellow staff member, Mrs. Misty Talley. Mrs. Talley said, "Mrs. Goodson is a very dedicated teacher, as we all are, but she goes above and beyond her teaching duties. She is in her room 99% of the time during lunch so that students can come in and complete or get help on assignments. She has been taking a class online to fulfill her certification to teach a class required by the state. This means she stays late every Wednesday after school so that she can video conference with the other classmates as part of the class. On top of that she is expecting a baby girl in late February. Most people would stress out with just one of these situations, and she is handling all three like a champ!"
Hadrian Daniels is the January Student of the Month! He is a 9th grader, and the son of Tracey Daniels and Laura Zinnell . He was nominated by his Drama teacher, Mr. Dustin Jackson. Mr. Jackson says, "Hadrian is a jack of all trades. He has a contagious positive attitude. Whether being a team player on the field or acting in front of the theatre class he builds others up around him and creates a safe space for his peers. He commits to new challenges and finds a way to persevere. What sets him apart the most is the smile on his face while he does it. His confidence and maturity inspires his peers to be their best selves. "
RJHS wants to say a big congratulations to Mrs. Goodson and Hadrian Daniels.