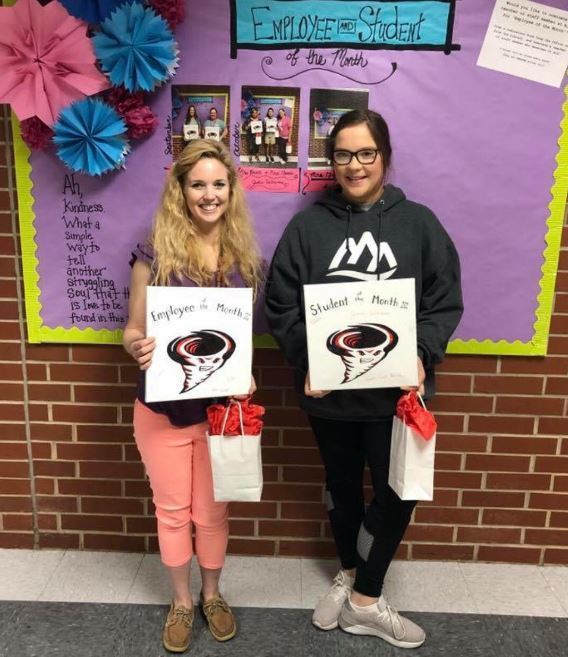 December Employee and Student of the Month
Jessica Baldwin
Thursday, December 06, 2018
Miranda Townsend is the December Employee of the Month! Mrs. Townsend is an aide at RJHS. She was nominated by Mrs. Sandy Hocker. Here is what Mrs. Hocker had to say, "I would like to nominate Miranda Townsend for employee of the month. She is an amazing sponsor for our Christian Student Union and has done a great job growing this organization. There were over 100 students in a recent meeting! She stresses good citizenship, being respectful, being kind to all, and the list goes on.... She brings in guest speakers from our community to interact with our students which promotes positive behavior in our school. I have been in the meeting room on Wednesday during lunch and you can really feel the positive vibes from this group. We need more of this in our schools! CSU has a T-shirt now and I encourage everyone to get one and wear them on Wednesday's to show support! "
Maggie Hutchison is the December Student of the Month! She is a 9th grader and the daughter of Mike and Monica Hutchison. Maggie was nominated by Miranda Townsend. Here is what Miranda had to say, "She is such a great student. She is always a member of CSU! Before we left on Thanksgiving break she wrote me a Thanksgiving letter telling me how much she appreciates the impression of God in our school because of our active CSU group. That was awesome! Shes such a good example for RJHS!"
RJHS wants to say a big congratulations to Mrs. Townsend, and Maggie Hutchison!