EDIT MAIN
Meet Ranger the Therapy Dog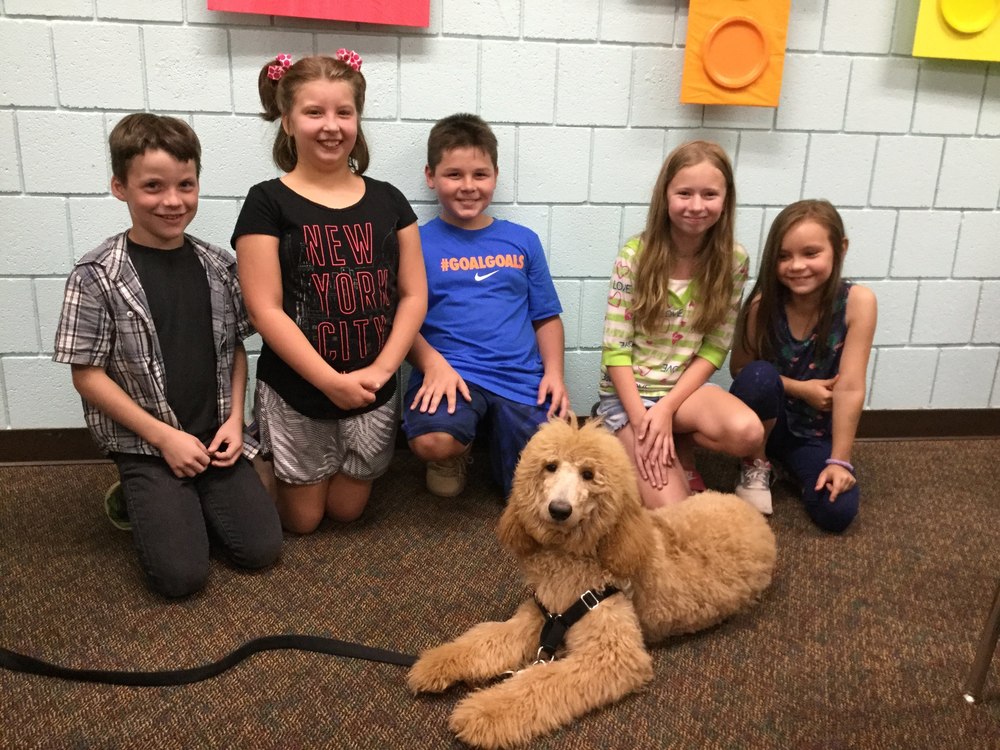 Who is the dog at my child's school?
Ranger is an F1b goldendoodle. He will be present at Center Valley Elementary every day during the school year. When he is not at school, he lives with our school counselor, Angela McGuigan.
What does Ranger do at school?
Ranger has many different jobs at CVE. He works with Mrs. McGuigan as a therapy dog. He helps several kids reach goals related to self-esteem, emotional regulation, friendship, and attention issues among many others. He will also help kids with reading goals such as fluency and comprehension.
I'm worried about allergies. Is that being considered?
Good news: Ranger is part poodle which means he doesn't shed, which significantly reduces allergic reactions. Mrs. McGuigan coordinates with our nurse so she is aware of students who have allergies. Before Ranger comes into the school, he is cleaned to significantly reduce any dander. One of Mrs. McGuigan's protocols is that students wash their hands before and after working with Ranger.
My child is afraid of dogs. What should I do?
Please let Mrs. McGuigan know if your child has an aversion to dogs. There are several rules that Ranger and Mrs. McGuigan follow at school to ensure that all our students and staff feel safe. That is a primary focus of this program.
What is Ranger's training?
Ranger has passed first obedience class, and continuing his training to pass all certification tests to become a therapy dog. Ranger's classes to help ensure his skills and behavior are kept at the highest levels.
What are the health benefits of therapy dogs?
Lifts spirits and lessens depression
Lowers feelings of isolation and alienation
Encourages communication
Provides comfort
Increases socialization
Lessens boredom
Reduces anxiety
Aids children in overcoming speech and emotional disorders
Creates motivation for the client to recover faster
Reduces loneliness