You may access detailed information about your student's assigned time to pick up school items and turn in library books, laptops and chargers by checking your student's school email, the RIS Facebook page or the document section of our school website. Pick up times are assigned by homeroom. On Monday, May 18, math homerooms will pick up from 9 to 11 AM and science homerooms will pick up from 12 to 2 PM. On Wednesday, May 20, social studies homerooms will pick up from 9 to 11 AM. and ELA classrooms will pick up from 12 to 2 PM. Groups A/B will drive through the front drive off of W. 4th Pl. and Groups C&D will drive through the back drive of the building off of 8th Street. You will not leave your car. Your child's homeroom teacher will be waiting to hand you your bag of items and teachers will be on hand to collect school items that your child needs to turn in. We look forward to seeing you at your assigned time next week. Thank you.
Directions for return and pick- up of student items found in our document section for Monday, May 18, and Wednesday, May 20th.

Camp refunds will be available for pickup from the RIS front office on Wednesday, April 22nd between 2-6 p.m. if you paid by check, the check must be picked up by the person who signed it or whose name appears on the account.. At this time, students may not access the school. We are planning a later date when students will be able to collect personal items and turn in school property. Wednesday is for camp refunds only. We will send further information once a later date has been determined . Thank you for your understanding as we continue to do our best to ensure the safety and well-being of everyone.

Sign-ups for beginning band and choir are postponed indefinitely, and a new date will be announced at a later time. Thank you.

Fifth grade students can expect to find learning tasks starting Tuesday, 3-31-20, in Google Classroom. Students can log in with their school email and access their learning online. They can also contact their teachers through Google Classroom, Remind, or by email or phone if they have any questions. Students should keep their first week's AMI packet until they return to school. Thank you! Everyone, stay well!

In an effort to keep everyone healthy, all RSD events are suspended at this time. Sadly, this will include camp. We will begin the process of refunding any money paid toward camp very soon. Thank you for your patience as we prepare refund checks. We will notify you when refunds are available for pick up. Your child's teacher will be reaching out this week to make contact through email, Remind or by phone. We want each student to know teachers are standing ready to offer their support during the school closure. Report cards will be mailed home on Friday.

AMI packets were sent home with all 5th grade students on Friday, March 13th. Students should begin to complete Day 1 instruction today. If you need a packet, please contact our office at 479-968-2650 and we will have a packet ready for you to pickup.

Choir sign-ups are now postponed until April 20th at 6:30 p.m. in the RMS Choir Room.

In an effort to ensure good health for everyone, the RSD Music Dept. has rescheduled Beginning Band sign-ups. New dates are: April 9 for Groups A/B and April 13 for Groups C/D. Band sign-ups are between 3:45-7 p.m. in the RMS band room. Choir sign-ups will remain on Monday evening at 6:30p.m. as long as school is in session on Monday. If we reschedule choir sign-ups, we will notify you. Thanks!

All 5th grade parents and students are invited to attend a short meeting about camp on Monday, March 2nd at 6:30 p.m in our cafeteria. We will provide information and answer questions you may have about camp.

Correction: The Pre-AP meeting scheduled for Tuesday evening, Feb. 4th, will begin at 6:30 p.m. in the RIS Cafeteria. We apologize for the confusion.

Pre-AP Night at RMS is on Tuesday, Feb. 4th at 6:00 p.m., in the cafeteria at RIS/RMS. Fifth grade students and parents are invited to attend to learn important information about Pre-AP classes for 6th grade.

Congratulations to Adyn Ashander, our GEO Bee School Champion!
RIS will present academic awards for the 2nd quarter on Jan. 16 (A&B) and Jan. 17 (C&D). Each assembly will begin at 9:00 a.m. in our cafeteria. We invite families to come celebrate with us!
Tuesday, December 3rd, RIS will host a family STEAM Night. The Museum of Discovery will be here with tons of fun learning activities for our students. STEAM activities will be set up in our cafeteria from 6:30-8:00 p.m. You may enter from our back doors. See you then!
You are invited to join us for a Christmas Luncheon on Tuesday, Dec. 10th at 12:10 p.m. Tickets for our luncheon are due back tomorrow. If you'll be bringing guests, please indicate the number of people attending. All fifth graders will eat lunch that day as normal.
Tomorrow night is Game Night at Cyclone Stadium! Students who wish to escort the team onto the field should meet us inside the ticket booth at 6:30p.m. Student admission is free. All students must be accompanied by an adult.
Our school nurse recently learned that NO FLU MISTS will be available for our upcoming flu clinic on October 17th. Only shots will be available at school so please disregard the flu mist option on the forms coming home. Thank you. Here's to everyone staying healthy!😊👍
Thursday, October 3rd, is Picture Day. All students will have a picture made for our yearbook. If you wish to order a package for yourself, order forms must be turned in with payment no later than Thursday morning prior to pictures. Bring your smile! 😊
Tomorrow is the last day of our PTO fundraiser. Thank you for turning all money from our candy sales tomorrow.
We invite all 5th graders and their families to Meet Your Teacher. It's a come and go event on Monday, August 12th from 4-6 p.m. Student schedules should be picked up in the cafeteria, then students may visit classrooms and tour the school. Welcome to RIS!
There will be a different lunch time for 5th graders on Thursday, May 16th only. Students will eat lunch from 10:45-11:15. Please remember that school dismisses two hours early on Thursday. We will resume a normal schedule on Friday, May 17th. Thank you!
Camp Dates By Group: Group A - April 8 & 9 Group B - April 9 & 10 Group D - April 10 & 11 Group C - April 11 & 12 Students are asked to bring one package of Chips Ahoy or Oreos cookies to school for camp. These two brands are peanut free. Thank you!
All 5th grade students will attend a special performance of The Aristocats at The Center for the Arts on Thursday morning. Students will be away from campus from @ 8:30-10:30 a.m.
Please join us for an informational meeting about fifth grade camp on Monday, March 4th at 6 p.m. in our cafeteria. All camp forms are due Wednesday, March 6th.
RMS will host an informational meeting about Pre-AP classes for all interested 5th and 6th grade students and parents on February 7th at 6:30 p.m. in the cafeteria.
Awards assemblies are this Thursday, 1-17-19, in our cafeteria. We will present awards for the 2nd Quarter to Groups C/D at 9 am and Groups A/B at 2 pm. We invite you to join us!
The UE5G Talent Show is happening this Thursday morning at 9 a.m. at The Center for the Arts at RHS. All students will travel to The Center to enjoy the show. Visitors are welcome.
Picture Retakes are happening tomorrow morning for any student who needs to get a picture redone. Order forms are available in our office.
School Pictures are happening here on Wednesday morning. Be sure to send your paid order if you'd like to purchase a package. You can also pay online. SMILE! It's picture time on 10-3-18!
Friday, September 7th is UE5G Night at Cyclone Stadium. Join us as we cheer on the Cyclones! Students will receive a pass for free admission to the game. All students must be accompanied by an adult. We will line up at 6:30 near the Booster Club area. Go Cyclones!
UE5G will host a Robotics Team parent meeting for all parents whose 5th grade students are interested in applying for the robotics team on Tuesday, August 28th at 6:00 p.m. in the UE5G Cafeteria.
It's been such a smooth start to the year! Thank you to everyone for making this a great first week of school!
We are very excited to meet our new 5th grade students at Meet the Teacher, August 9th, between 4-6 p.m. Students will get class assignments in the cafeteria upon arrival. Welcome to 5th Grade!
UE5G will celebrate End of Year Awards tomorrow, May 16th at 9:00 a.m. at The Center for the Arts. On Thursday, May 17th, school will dismiss two hours early.
UE5G is going to the movies on Monday! Our PTO has arranged for our students to see a movie at our local theater to reward their hard work on tests this week. Notes went home today with details.
Please remember that all 5th graders will be taking ACT Aspire testing each day this coming week. Please be at school each day and do your best! Rewards are coming for those who try their best!
Camp is here! Please be sure to arrive promptly with your gear. Students must be picked up at 1:15 the next day. All students will receive a picnic lunch from school for the normal cost ($2.60).

RSD Elementary Student Art Exhibition RUSSELLVILLE, Ark. (April 3, 2018) — Russellville School District will host a Student Art Exhibition featuring artwork from 25 students in grades kindergarten-5th from each RSD elementary school. The Exhibition will take place Sunday, April 8, 2018, from 2-4 p.m. at The Center for the Arts. The Student Art Exhibition will showcase the strongest fine art pieces from each school and students will be presented with award certificates after the show. Parents and community members can view the Exhibition until April 12, 2018, from 9 a.m. to 4 p.m. at The Center for the Arts.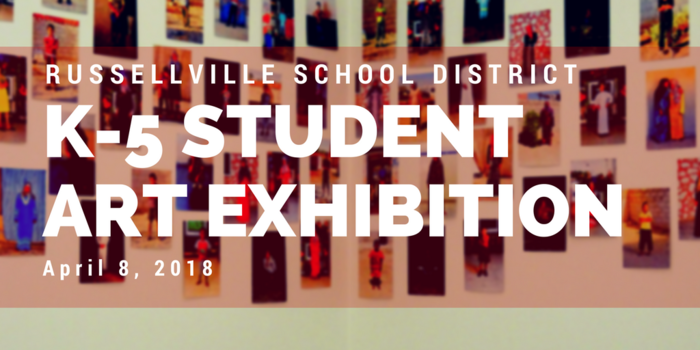 Russellville School District will be closed on Monday, March 19-Friday, March 23 for the Spring Break holiday. Classes will resume on Monday, March 26. The district wishes everyone a safe and happy Spring Break.
Reminder: Tomorrow, March 7th, is the deadline for all camp applications at UE5G.
There will be a meeting to provide information about camp on Monday, March 5th at 6:00 p.m. in the UE5G cafeteria. Parents who have questions regarding camp are encouraged to attend.

Russellville School District will be dismissing 90 minutes early on Monday, February 19, 2018, for Parent/Teacher Conferences at Russellville High School and Russellville Junior High School. Last week, RHS and RJHS held Student Success/College and Career Readiness Conferences instead of Parent/Teacher Conferences. This early dismissal will allow teachers to prepare for these conferences.
Spring portraits and class pictures will be taken on Friday, Feb. 16th. UE5G students will attend the Good Manners Tea on Friday. Please disregard the district calendar. The date was changed to Friday, 2-16-18.

RSD will hold Parent/Teacher Conferences on Monday, February 12 from 1 to 7 p.m. for RMS and on Tuesday, February 13 from 1 to 7 p.m. for Kindergarten-5th grades. RHS and RJHS will hold Student Success/College and Career Readiness Conferences on Monday, Feb 12 from 1-7 p.m. There will be no school on Monday, Feb 12 and Tuesday, Feb 13 due to teacher professional development and P/T Conferences. Classes will resume on Wednesday
5th Graders who wish to sign up for 6th grade choir need to attend Choir Sign-ups on Monday, January 29th at 6:30 p.m. in the RMS Choir Room. Students should be accompanied by an adult.

Russellville School District invites parents and the community to a Project Lead the Way (PLTW) Showcase on Wednesday, January 31, beginning at 8 a.m. at the Center for the Arts. Those interested in attending can register online at
http://bit.ly/RSDPLTW
, or contact Judy Pennington, secondary curriculum director, at
judy.pennington@russellvilleschools.net
or 479-967-6051.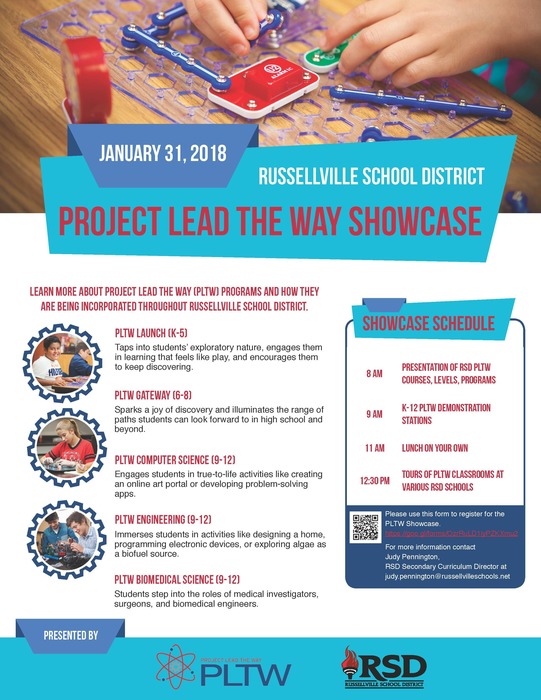 Spring Portraits will be taken on Friday, Feb. 16th. All orders are prepaid. Bring your smile! :)
Band Tryouts for 5th graders are Jan. 30th for Groups A/B and Feb. 1st for Groups C/D in the RMS Band Room between 3:45-7:00 p.m. Students must be accompanied by an adult to the tryouts.

January is School Board Member Recognition Month, and RSD would like to thank the seven school board members who advocate and shape the direction of our school district. Members of the RSD School Board include Morgan Barrett, Chris Cloud, Breanne Davis, Allan George, Jami Mullen, Jeff Phillips, and Wesley White.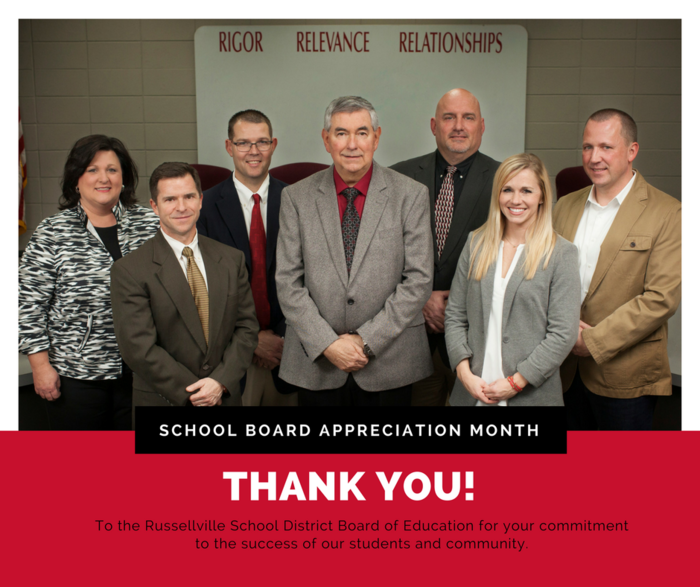 UE5G will host parent/teacher conferences from 1:00-7:00 p.m. in our cafeteria on Monday, October 23rd. We look forward to seeing our fifth grade families!
School pictures are tomorrow, Oct. 4th. All orders must be prepaid. Please bring your smile to school on Wednesday!

The Child Nutrition Department would like to remind parents that a new application must be filled out each year to qualify for free and reduced meals. If you have not filled one out for the 2017-18 school year please fill one out as soon as possible. You can complete an application online at
http://russellvillesd.nlappscloud.com
or obtain a paper copy from your child's school.
UE5G invites you to Open House on Tuesday, September 5th. Please join us in our cafeteria at 6:00 p.m.to hear important information to help your child have a great 5th grade year.