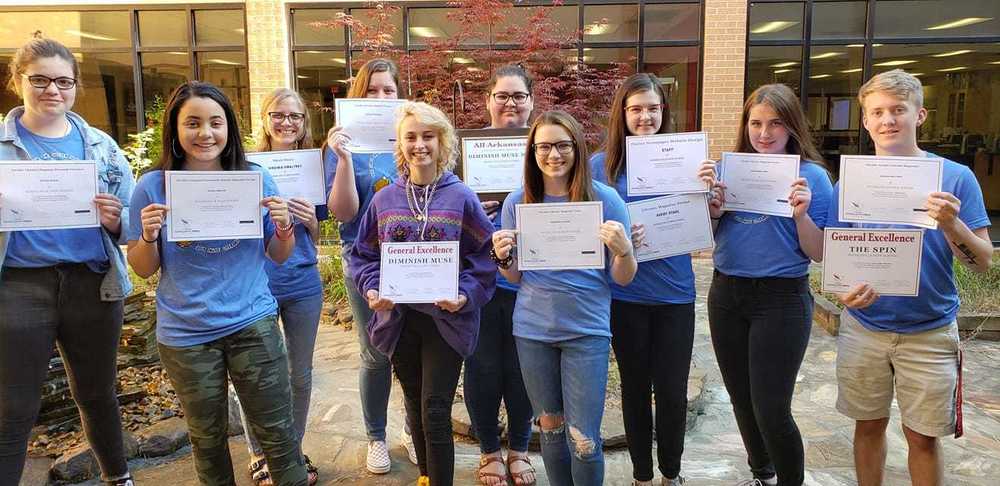 RHS' Muse Literary Magazine ranked the best in the state, 2019.
Rachel Jones
Wednesday, April 24, 2019
On April 18-19, 2019 The Spin Online Newspaper and Muse Literary Magazine Staff attended the Arkansas Scholastic Press Association Convention in Springdale, Arkansas and received a total of 34 awards.
The 2019 Muse Literary Magazine earned the highest honor awarded by ASPA, ranking All-Arkansas for the third consecutive year.
The staff received five Honorable Mention awards, seven Excellent awards, and six Superior awards ranking the 2019 Muse Literary Magazine the best in the state.
At the ASPA Convention, the students competed in on-site contests against students from other districts across the state.
Alexandrea Abel (Sophomore) and Joshua Williams (Senior) each received first place in on-site contests.
Abel competed in Literary Magazine Poetry, and Williams won the category of artistic photography that showcased his recent travel abroad.
Sophomore Madison Coulter placed third in Literary Magazine Essay.
Senior Hannah Windel-Rivota placed third in Newspaper Review Writing.
Juniors Alyssa Black, Virginia Gwaltney, Shyra Simpson, and Katelyn Freeman all received second place in their respective categories.
Alyssa Black competed in Literary Magazine Personal Narrative, Virginia Gwaltney in Cartooning, Shyra Simpson in Computerized Literary Magazine Design, and Katelyn Freeman in traditional Literary Magazine Design.