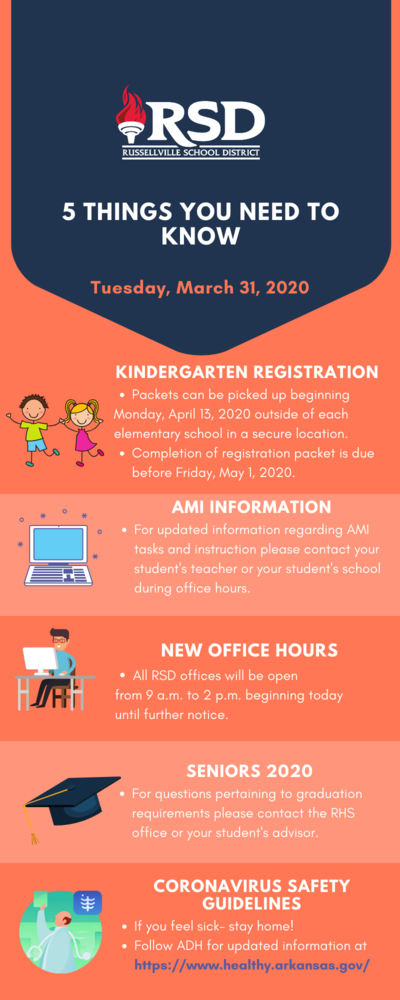 From the Office of the Superintendent-5 things you need to know today
Rachel Jones
Tuesday, March 31, 2020
From the Office of the Superintendent, Dr. Mark Gotcher- 5 things you need to know for Tuesday, March 31, 2020:
1. Kindergarten registration information is now available! Packets can be picked up outside of each elementary school beginning Monday, April 13, 2020 and are due no later than Friday, May 1, 2020.
*For more information contact Karie Turney, Director of Elementary Teaching and Learning, at 479-968-5216 during office hours.
2. Students will be contacted by their teacher or a staff member from their school with information regarding existing and future AMI tasks. *If you have questions, please contact your student's school during office hours..
3. As of today, March 31, all RSD offices will be open from 9 a.m. to 2 p.m. until further notice.
4. Seniors will be contacted by RHS staff with guidance regarding graduation requirements and other important information. Students please check your email daily!
If you or your student have questions please contact the high school during office hours.
5.RSD wants to urge our staff, students, and their families to follow the guidelines given to us from the Department of Health and suggest staying informed on the status of the Coronavirus at https://www.healthy.arkansas.gov/programs-services/topics/novel-coronavirus
*Some prevention methods include social distancing of at least six feet, resist touching your face, no more than 10 people gathered together at one time, frequent hand washing, sneezing into an elbow, and please if you feel sick- stay home!
We're in this together, RSD! Stay safe!