5 Praises from the Office of the Superintendent
Rachel Jones
Thursday, April 16, 2020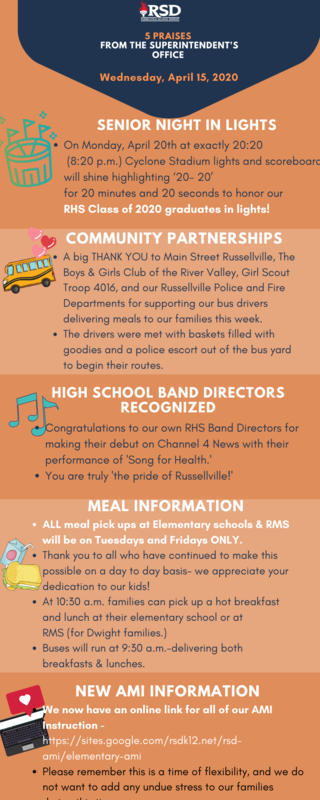 Dear RSD,
Dr. Gotcher wanted to change things up just a bit by recognizing some of the good things going on this week!


1. 'Senior night in the lights' has been set for this Monday, April 20, 2020. A separate press release was sent in a previous email with information and instruction for parents and students. The event is set to begin at 20:20- or 8:20 p.m.
2. We have been blessed with community support during this crisis. Main Street Russellville, The Boys and Girls Club of the River Valley, Elizabeth Streett and Girl Scout Troop 4016, along with RPD and the Russellville Fire Department gathered in the bus yard Tuesday morning to thank our drivers. They provided them with gifts and a police escort out of the lot!
3. We are so proud of our High School Band Directors! They were featured on Channel 4 performing 'Song for Health.' Their performance can be found posted on our RSD facebook as well as on Channel 4's link: https://www.youtube.com/watch?v=o2jbq85mH2w
4. ALL meal pick ups at Elementary schools & RMS will continue to be on Tuesdays and Fridays ONLY. Thank you to all who have continued to make this possible on a day to day basis- we appreciate your dedication to our kids!
5. We now have an online link for all of our AMI Instruction - https://sites.google.com/rsdk12.net/rsd-ami/elementary-ami
Great job to all of our admin's and staff who have worked so hard to bring our kids quality education during this time.
*Please know your efforts are appreciated!