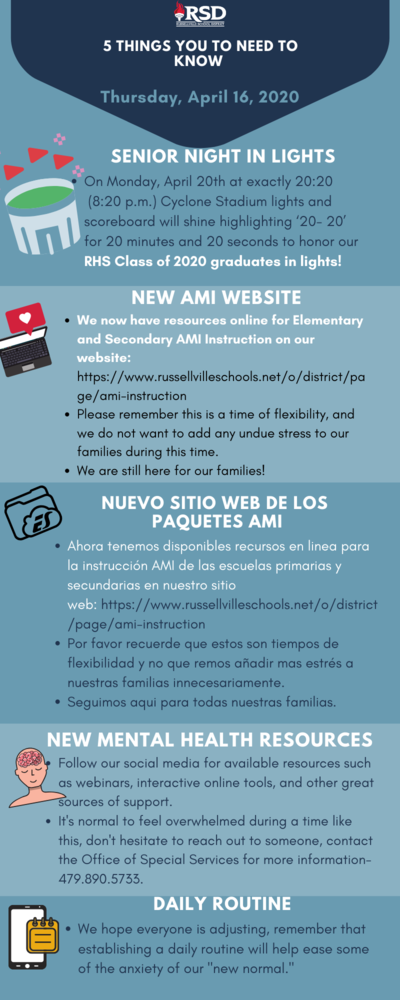 From the Office of the Superintendent, here are Dr. Gotcher's 5 things to know for Thursday, April 16-
Rachel Jones
Thursday, April 16, 2020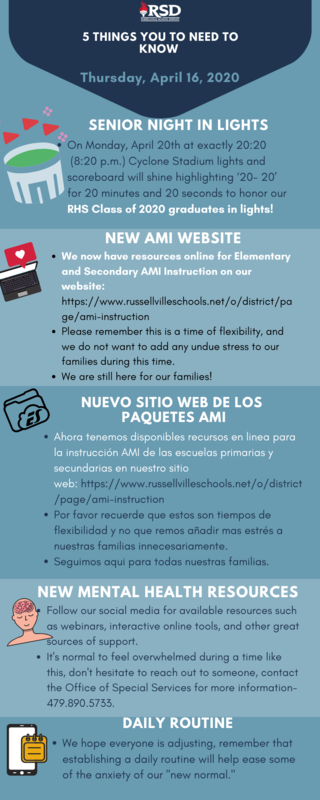 Good Thursday evening RSD,
From the Office of the Superintendent, here are Dr. Gotcher's 5 things to know for Thursday, April 16-
1. 'Senior Night in the Lights' is scheduled for next Monday, April 20, at 8:20 p.m. (20:20 military time.)The stadium and scoreboard lights will shine bright as a gesture to honor our graduates hard work and accomplishments this year. *It is important that all participants must remain in their vehicles, please pass the word on to those who might not know.*
2. So much new information from the Offices of Elementary and Secondary Teaching & Learning this week revolving AMI instruction and resources!
RSD now has an 'AMI Information & Resources' page with links to multiple resources that you can easily access on our District page under the headings- 'About RSD,' 'Parents,' and 'Students.'
https://www.russellvilleschools.net/o/district/page/ami-instruction
3. All of the AMI lessons found on our site are also offered in Spanish! We have resources and tools that we can offer our ESL families too!
4. As we have continued to hear from professionals, mental wellness will be the next obstacle to face our students and families as we settle into this new normal.
Brittany Turner and her staff are doing great things- partnering with members of our local mental health community to help us give our students, staff, and families the best resources we have available. Please check our website, facebook, and twitter for updates on webinars, interactive help sessions, and other resources. Don't forget there is an online form available if you want to speak to a trusted adult- https://core-docs.s3.amazonaws...
5. Dr. Gotcher has suggested creating a daily routine at this time would be beneficial for all of us, including himself! We are creatures of habit, and as of late our habits/routines have been completely turned upside down- so even if you set a simple schedule to follow each day it will help by establishing some order to your tasks. Find time to take care of yourself, exercise, enjoy your time with your loved ones, and consider reading a new book or two.
Thank you!