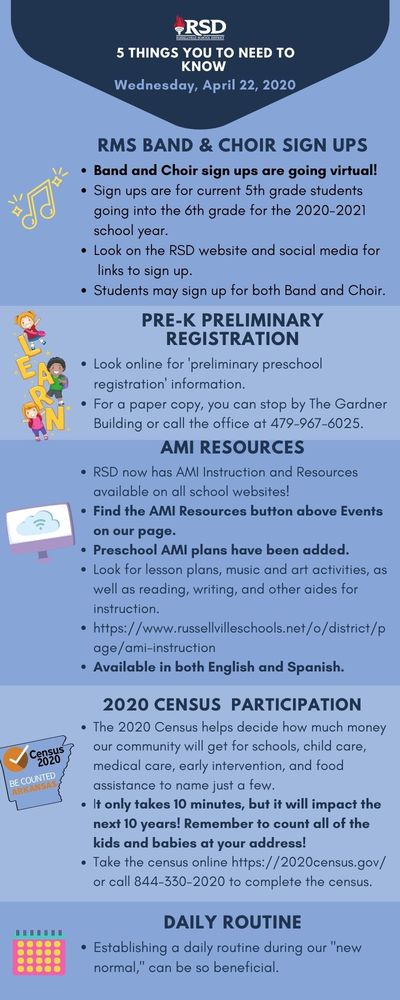 5 things to know from the Office of the Superintendent for Wednesday, April 22, 2020
Rachel Jones
Thursday, April 23, 2020
5 things to know from the Office of the Superintendent for Wednesday, April 22, 2020-

1. Band and Choir sign-ups are going virtual! These sign ups are for current fifth graders who will enter sixth grade in August 2020.Students may sign up for both.
Questions? Contact Dewayne Dove at dewayne.dove@rsdk12.net or 968.3153, please leave a message.
To sign up for band: http://www.russellvillebands.org/
To sign up for choir: https://forms.gle/CtygN3RXQgGanfe57
2. Pre-K Registration is available online and can be completed in paper form. Forms are available at Gardner Complex, contact 967.6025 for more information.
3. AMI Resources for RSD can be found on our website for Pre-k through 12th grade in English and Spanish.
4. Please consider completing the 2020 census. It takes ten minutes but it impacts the next ten years!
5. A daily routine establishes a constant that we desperately need. Consider exercise, eating healthy, and a normal sleep routine while we figure out our new normal during this crisis.