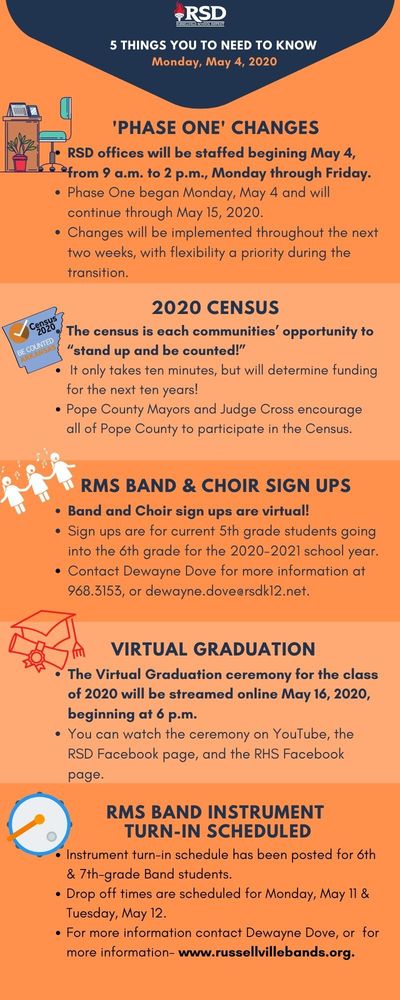 5 things to know for Monday, May 4, 2020 from the office of the Superintendent-
Rachel Jones
Monday, May 04, 2020
5 things to know for Monday, May 4, 2020 from the office of the Superintendent-
*May 4-8, 2020 is Teacher Appreciation week.
We are grateful for all our teachers do for their students and the positive impact they each have on our community, RSD appreciates you!
1. Phase one began today with all RSD offices opened from 9-2 p.m. Offices will continue with these hours through May 15, 2020.
We will continue to follow information and guidelines from Governor Hutchinson's daily report.
If you'd like more detailed information please visit, https://www.healthy.arkansas.g... .
2. Please encourage those around you to do their part! The 2020 Census is our community's opportunity to be counted, in order to receive funding for the next ten years! At this time Pope County has a 50.8% participation rate, and Judge Cross along with the six Mayors of Pope County strongly encourage everyone to do their part and complete the census.
Follow this link to complete the 2020 census online- https://2020census.gov.
3. RMS 6th and 7th grade band students are scheduled to turn in their instruments on Monday, May 11 and Tuesday, May 12.
Follow this link for the current schedule and contact information should you need to re-schedule: https://docs.google.com/document/d/1x1pLRV3111NJi_7VvI5NdIM-6_J1M59eWupeSvJiM5w/edit?ts=5ea3333d.
4. 2020 Graduates concluded filming Friday, May 1!
Virtual Graduation is scheduled for May 16, 2020 at 6 p.m. You can view the ceremony online via YouTube, and the RSD and RHS Facebook pages. Students who were unable to attend filming will be represented in the ceremony, too.
5. RMS Band and Choir sign-ups are virtual this year. Students entering into 6th grade may sign up for Band, Choir, or both! Contact Dewayne Dove for more information, dewayne.dove@rsdk12.net.