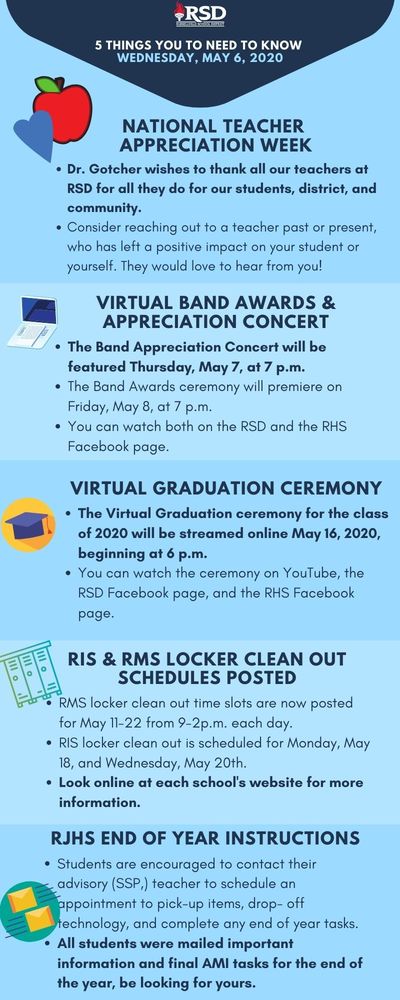 5 things to know from Wednesday, May 6, 2020, from the office of the superintendent-
Rachel Jones
Thursday, May 07, 2020
5 things to know from Wednesday, May 6, 2020, from the office of the superintendent-
1. May 4-8, 2020 is Teacher Appreciation week. RSD is grateful for everything teachers do for our students and the positive impact they have on our community. Dr. Gotcher appreciates you and looks forward to having all teachers back on campus soon!
2. The Band Appreciation Concert and the Band Awards Ceremony are both virtual this year.
The Band Appreciation Concert will be featured Thursday, May 7th, at 7 p.m.
The Band Awards ceremony will premiere on Friday, May 8th, at 7 p.m. *You can watch both on the RSD and the RHS Facebook page.
3. Virtual Graduation is scheduled for May 16, 2020, at 6 p.m. You can view the ceremony online via YouTube, and the RSD and RHS Facebook pages. Students who were unable to attend filming will be represented in the ceremony, too.
4. RIS & RMS Locker Cleanout schedules are now posted on each of the school's websites and social media. RMS locker cleanout time slots are now posted for May11-22nd, from 9-2 p.m each day. RIS locker cleanout is scheduled for Monday, May 18th, and Wednesday, May 20th. Look online at each school's website for more information on those schedules and instructions.
5. RJHS end of year instructions and important AMI task information has been mailed to all students.
Students are encouraged to contact their SSP teacher to schedule an appointment to pick up their items and drop off materials.