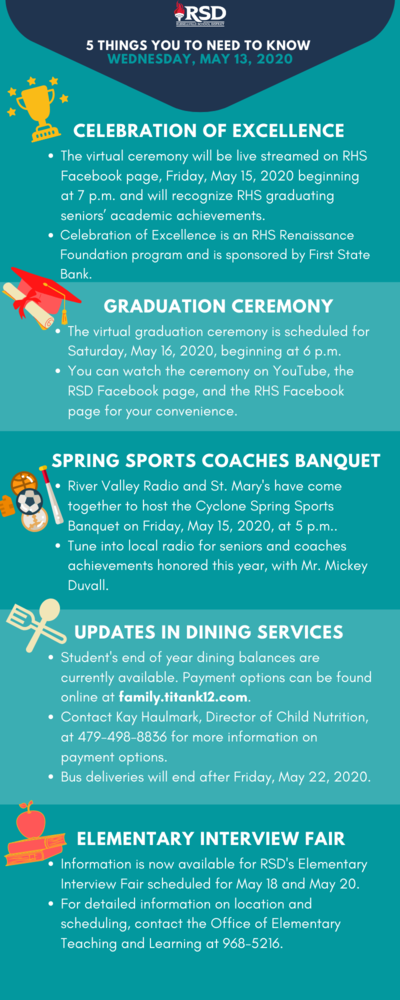 5 things to know from the office of the superintendent from Wednesday, May 13, 2020
Rachel Jones
Thursday, May 14, 2020
5 things to know from the office of the superintendent from Wednesday, May 13, 2020
Good afternoon,
1. Please join us Friday, May 15, 2020, at 7 p.m. for the Celebration of Excellence ceremony where RHS graduating seniors will be recognized for their academic achievements. You can watch the ceremony on the RHS Facebook page.
2. Virtual Graduation is scheduled for May 16, 2020, at 6 p.m. You can view the ceremony online via YouTube, and the RSD and RHS Facebook pages. Students who were unable to attend filming will be represented in the ceremony, too. Please join us in celebrating our graduates and all of their achievements.
3. The 2020 spring sports coaches banquet hosted by St. Mary's, River Valley Radio and Mr. Mickey Duvall, will be live on the air Friday, May 15, 2020, beginning at 5 p.m.
Stations to tune into are KCJC 102.3, KWKK 100.9, KARV 93.1, KCAB 97.1, KCON 99.3 and 105.5, and FAITH 101.3.
4. Updates in Dining Services include bus deliveries ending after Friday, May 22, 2020, and all student's end of year dining balances are currently available. Payment options can be found online at family.titank12.com. Contact Kay Haulmark, Director of Child Nutrition, at 479-498-8836, or kay.haulmark@rsdk12.net, for more information on payment options.
*Hot meals will continue to be served at our school's drive-thru services twice a week on Tuesdays and Fridays, until Friday, June 26, 2020.
5. Information is now available for RSD's Elementary Interview Fair scheduled for May 18, and May 20th. For detailed information on location and schedule, contact the Office of Elementary Teaching and Learning at 968-5216., or Director Karie Turney, at karie.turney@rsdk12.net.