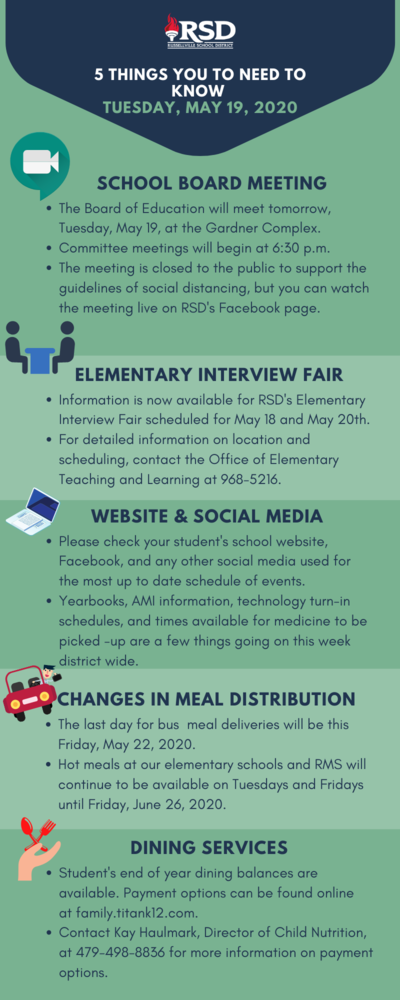 5 things from the office of the superintendent
Rachel Jones
Tuesday, May 19, 2020
5 things to know from the office of the superintendent from Tuesday, May 19, 2020
Good evening RSD,
1. The Board of Education will meet Tuesday, May 19, at the Gardner Complex beginning at 7:00 p.m. The meeting is closed to the public to support the guidelines of social distancing, but you can watch the meeting live on RSD's Facebook page. Committee meetings will begin at 6:30 p.m.
2. Information is now available for RSD's Elementary Interview Fair scheduled for May 18, and May 20th. For detailed information on location and schedule, contact the Office of Elementary Teaching and Learning at 968-5216., or Director Karie Turney, at karie.turney@rsdk12.net.
3. Our meal distribution deliveries will end this Friday, May 22, 2020. Hot meals will continue to be served at our school's drive-thru services twice a week on Tuesdays and Fridays, until Friday, June 26, 2020.
4. Stay up to date with your student's school website and social media accounts for information on medicine pick- up, technology drop-off, AMI information, dates, locker cleanout times, and other activities pertaining to your individual school.
5. Student's end of year meal balances are available, and payment options can be found online at family.titank12.com. Contact Kay Haulmark, Director of Child Nutrition, at 479-498-8836, or kay.haulmark@rsdk12.net, for more information on payment options.