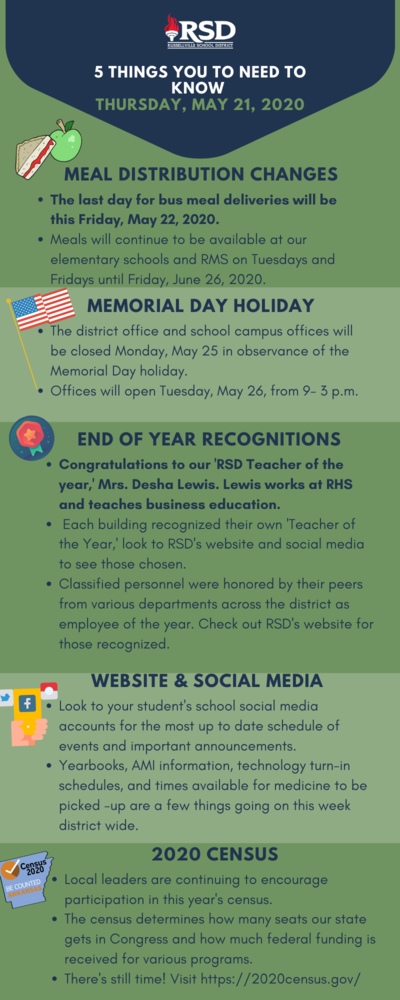 5 things to know from the office of the superintendent from Thursday, May 21
Rachel Jones
Friday, May 22, 2020
Good afternoon RSD,
here are the 5 things to know from the office of the superintendent from Thursday, May 21-

1. Meal delivery distributions will end this Friday, May 22. Families can still pick-up meals-to-go at our Elementary schools and RMS on Tuesdays and Fridays.
The last day for meal distribution will be Friday, June 26, 2020.
2. RSD offices will be closed district-wide in remembrance of the Memorial Day holiday on Monday, May 25. Offices will open Tuesday, May 26 from 9- 3 p.m.
3. The end of the year awards for those individuals chosen by their peers have been announced at the individual building level for teacher of the year, and classified staff has been recognized district-wide by Mr. Robertson. Congratulations to RSD's Teacher of the Year, Mrs. Desha Lewis!
4. Please continue to encourage students, families, and RSD staff to check their school's social media as well as RSD's website, twitter, and Facebook pages for the most up to date information.
Talent shows, med. pick-ups, technology turn in, and yearbooks are just some of the things that can be found posted on your school's individual social media account.
5. Our local elected officials, including Pope County Judge Cross continue to encourage completing the 2020 Census. There is still time! Follow this link to complete the census for your household, https://2020census.gov/