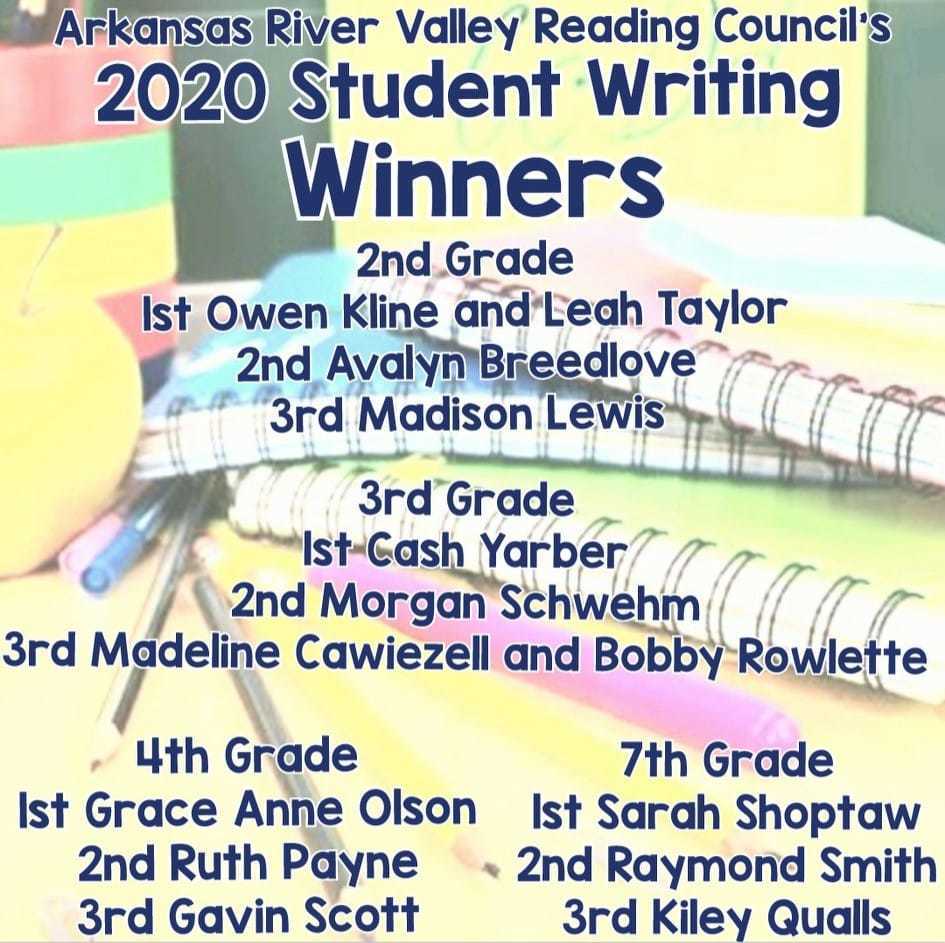 RMS & Sequoyah Elementary students recognized by the 'AR River Valley Reading Association'
Rachel Jones
Thursday, May 28, 2020
Sequoyah Elementary students were recently recognized by the 'AR River Valley Reading Association.'
Sequoyah Elementary had several students participate in the 'Arkansas River Valley Reading Association (4 county) Student Writing Showcase.'The topic for the writing showcase was, "The Book That Changed My Life".
Principal Barbara McShane says she's proud of the kiddos for participating and of their teachers for their encouragement. Most of the students participated on their own, not as a mandatory assignment.
Each teacher was able to submit 3 papers to the Showcase. To prevent bias, no ames/schools were identified on the papers.
11 Sequoyah students placed 1st, 2nd, and 3rd in grades 2nd, 3rd, and 4th.
They awarded ties for 2 grade levels. The students were recognized with a gift certificate to Dog Ear Books, and encouraged to submit a video of themselves reading their paper to be featured on their site.
All of the students' papers were submitted to the state level contest (Arkansas Literacy Association).
5 Sequoyah students placed in that contest, as well.
The following are the Sequoyah elementary winners of the Arkansas Literacy Council state contest who
were recognized via a virtual ceremony, on Tuesday, May 26.
The winners received medals and certificates for their accomplishments.
Grades 2-3
1st- Avalyn Breedlove
2nd- Madison Lewis (Tie for 2nd)
2nd- Leah Taylor (Tie for 2nd)
3rd- Madeline Cawiezell (Tie for 3rd)
Grades 4-5
3. Grace Ann Olsen
Winners from the Arkansas River Valley Reading Association:
Second Grade
1st place- Owen Kline
1st place- Leah Taylor
2nd place- Avalyn Breedlove
3rd place- Madison Lewis
Third Grade
1st place- Cash Yarbor
2nd place- Morgan Schwehm
3rd place- Bobby Rowlette
3rd place- Madeline Cawiezell
Fourth Grade
1st place-Grace Anne Olsen
2nd place-Ruth Payne
3rd place-Gavin Scott