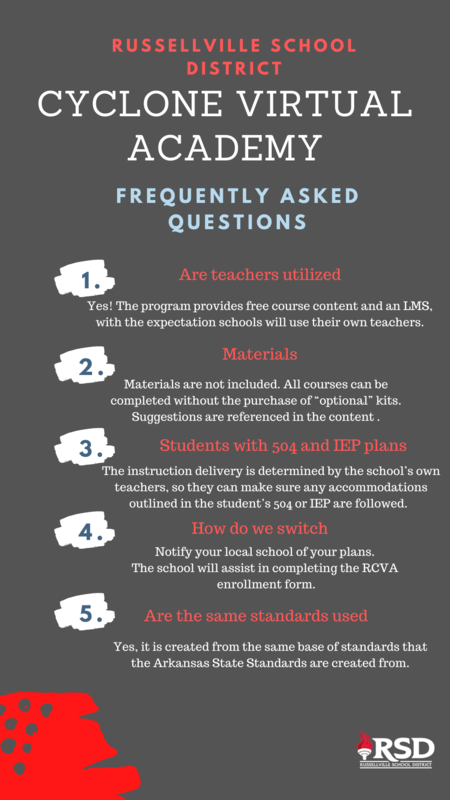 Russellville Cyclone Virtual Academy, (RCVA) is a school within RSD that is virtual for students whose needs may be met better in a different environment than the traditional classroom.

RCVA became part of the Ready for Learning initiative from the Department of Education, and gave us access to the Buzz LMS with Lincoln Learning content.

The Buzz LMS is a Learning Management System where Lincoln Learning's course content is housed and accessed by both teachers and students. It also houses the digital library that serves as a resource. Teachers can create and add their own content, lessons, activities, websites, etc.

Lincoln Learning is an entirely online curriculum that gives students multiple ways to engage with, understand, and demonstrate mastery of the course content. The Lincoln Learning Content is based on the same grade level standard base as the Arkansas State Standards.

Buzz contains multiple tools to help students such as translation of the content on the page, highlighting, on-screen dictionary, and reading the text to the students if needed. Any course can be modified to meet the needs of advanced students, or students who need reduced assignments.

The Course content is already rigorous and includes lessons for all standards at each grade level.

RCVA will have full-time teachers solely dedicated to supporting students instructionally.

Our teachers will communicate with students in a variety of ways to make sure they feel supported, including emails, virtual meetings, phone calls, and offer on-site support.

RCVA Students will be provided a device to complete their work.