*Russellville School District's top priority is to ensure the safety, security, and health of all students and staff, and will follow the most recent guidelines released by the Arkansas Department of Education and the Arkansas Department of Health pertaining to the 2021-2022 school year. The Back-to-School plan for 2021-2022 will be updated and released on our district website as soon as we receive new information and guidance.
ELEMENTARY RE-ENTRY PLANS (GRADES K-4)
PLANES DE REINGRESO ELEMENTAL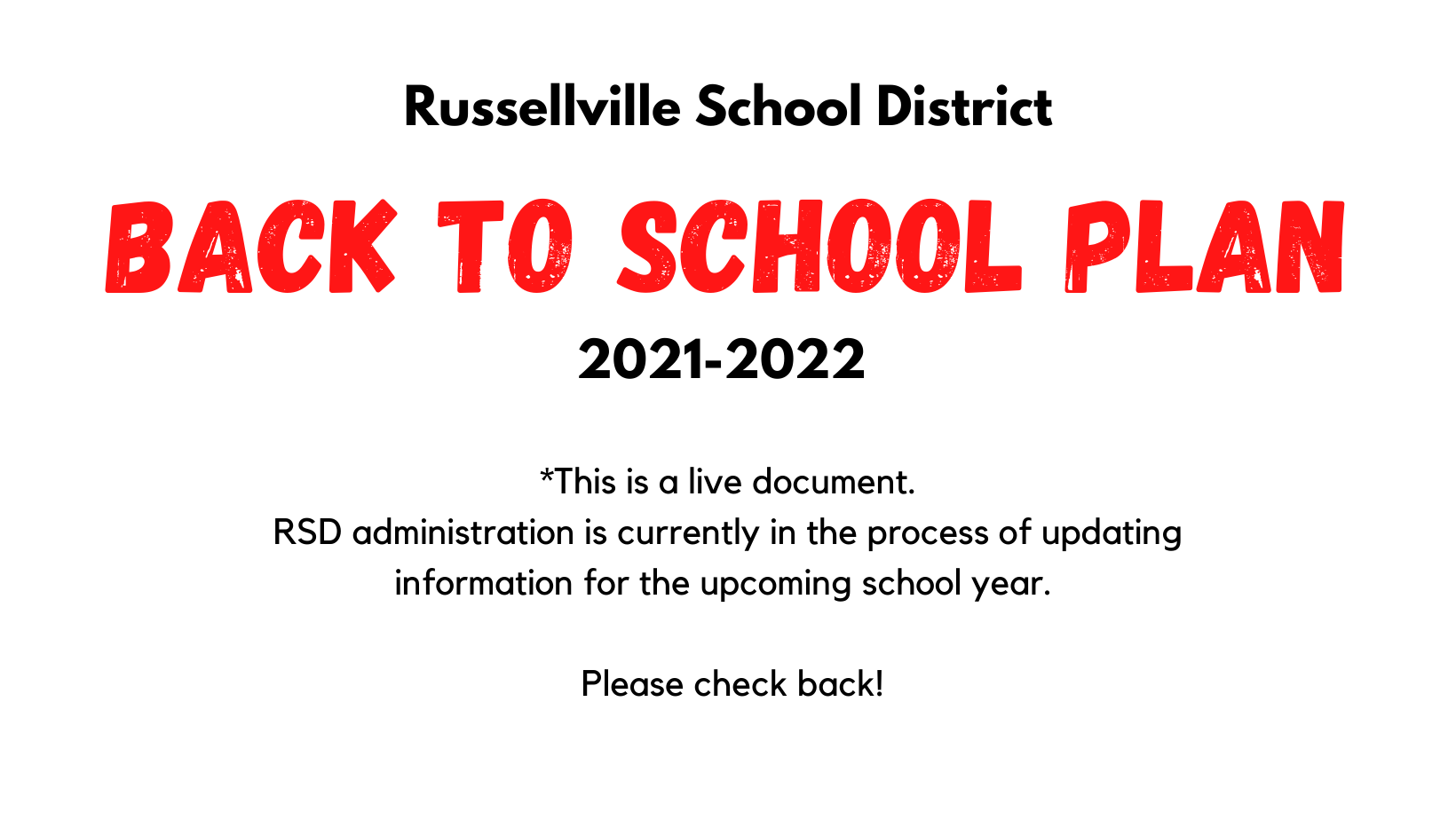 SCHOOL SUPPLY LISTS
Elementary - Secondary Supply Lists
QUESTION AND ANSWER PARENT/TEACHER INFORMATION GUIDE
As of July 20, 2020
What is the first day of school for students?
Who will be required to wear face coverings?
RSD will continue to follow the latest guidance from the Governor's Office, Arkansas Department of Health (ADH), and the Division for Elementary and Secondary Education (DESE).

We encourage every student to purchase or make a face-covering they are comfortable wearing.
Will bus transportation be provided for our students?
Yes, we are planning to run our normal bus routes at the normally scheduled times.

Transportation sanitation precautions will remain from the previous school year including fogging, riding with windows down to increase ventilation, social distancing when possible, and providing masks for students on each bus for students.

In order to reduce the number of student passengers on our buses, we are asking families to consider taking their children to school, if at all possible.
What will the school day look like for our students?
Our goal is to have as normal a school day as possible for our students. We will make adjustments depending on what we are being advised to do by our state experts.

The district has a contingency plan that may be implemented based on current guidance or recommendations.
What safety measures will be implemented in regard to cleaning and sanitizing our schools and classrooms?
We will sanitize classrooms, buildings, and playground equipment before, during, and after school hours.

Support services personnel will thoroughly clean all areas of our school.

See Building Procedures in item 6 of this document for more details.
How will our classrooms be sanitized throughout the school day?
Staff will be expected to assist in sanitizing their own work areas, prior to transitioning to another area. Students may assist, where appropriate. (see building procedures document)

Each classroom, office, and larger areas will have a spray bottle of disinfectant, gloves and hand sanitizer.
School buses?
Each bus will have a spray bottle of disinfectant and/or disposable disinfecting wipes, gloves and hand sanitizer.

Sanitizing will occur after each route is completed and students are no longer on the bus.
Will my elementary student have recess?
Yes, but we may limit the number of students who go outside for recess. This may require us to have multiple recess schedules or kids will play in small groups or stations in our elementary schools.
Will physical or social distancing guidelines be observed?
Yes, as much as possible in a public school setting. We realize that there are many situations where this is not practical or best for student learning. We will do what we can to arrange classrooms differently in order to observe physical distancing, when possible.

Currently, the guidance is to keep students 6 feet apart in a classroom setting. However, there are physical limitations with some of our classrooms where this would not be possible. Masks are

encouraged in this situation.
What will happen if a teacher, staff member, or student tests positive for COVID-19?
If anyone should test positive, we will follow the latest guidance and protocols from the ADH.

Our District Point of Contact is Mrs. Annie Schanink, Nurse Coordinator. She and her team will work closely with the Department of Health on how to proceed. Her contact number is 479-968-1306.
Will teachers, students, and staff be monitored daily?
Teachers, students, and staff will be monitored. Any persons that are not regularly at school will be screened by our screening tool (substitutes, school personnel from other campuses, student professional services, etc.)

Parents will be asked to screen their children daily before going to school. Parents should check their child for the following:

Fever

Cough

Shortness of breath

Loss of smell or taste

Further details will be provided as we approach the start of school.
What happens if students are running a fever?
Our updated procedures are that if any adult or student is running a fever must go home and be fever-free for 48 hours without medication before they can return. However, we will follow ADH guidelines as recommended related to COVID-19.
Will I be able to eat lunch with my student? Or bring lunch from a restaurant?
Until further notice, parents/guardians will not be allowed to eat lunch with their students.

The delivery of restaurant food will not be allowed.
Visitation Policy?
RSD will suspend the parent visitation policy 6.5.1.R until further notice.
What will extracurricular activities look like in the fall (i.e. sports, band, choir, theatre, etc.)?
Our current plans are to have all extracurricular activities begin as scheduled. But, official guidelines have yet to be determined by the Arkansas Activities Association and DESE.
Where will my student eat lunch if physical distancing is to be followed?
Lunch plans may look different at each building.

We will continue to have this discussion based upon new information from our state experts.

Breakfast and lunch will be in the classroom at the pre-school campuses.

Breakfast in the classroom will be expected on the elementary campuses.
BUILDING PROCEDURES
Facilities Cleaning Procedures continued from the 2020-2021 School Year
In order to comply with the latest sanitation/cleaning requirements, the following procedures will be in place before the start of this school year. We will adjust as guidance and circumstances change.
ROLE OF CUSTODIAL STAFF
The custodial staff will be responsible for sanitizing hard surfaces outside of the classroom.

These are to include, but not limited to, bathrooms, water faucets, door handles, playground areas, and assisting in the cafeterias if needed.

The custodial staff will practice routine deep cleaning of the classrooms each night based on ADH recommendations and fog them on an M/W/F schedule.
ROLE OF NON-CUSTODIAL STAFF
Non-custodial staff (Teachers, Aides, etc.) will be responsible for cleaning the areas within the classroom.

Materials available in each classroom will be as follows:

10 cloth towels

1 spray bottle

Spray bottle with either of the following disinfectants (CDC approved) based on availability:
Virex (gloves recommended)

Pure Ion (Chlorine-based gloves are not required)

1-32oz bottle of hand sanitizer

28-quart black trash can to collect used towels

Disposable gloves will be provided based on cleaning disinfectant used
THE FOLLOWING PROCEDURES WILL BE IN PLACE FOR:
CLASSROOM
Desks and common areas will be wiped down by (non-custodial) staff at the required times throughout the day, using towels and spray bottles provided.

Hand sanitizer and disinfectant bottles will be refilled by the custodial department as needed.

Used towels will be placed within the provided trash can, and will be collected with the normal trash in the evening.

Towels will be washed and restocked nightly by the custodial department.

Virex can be sprayed on and left to dry but wiping is recommended, or Pure Ion disinfectant can be applied and does not require wiping.
WATER FOUNTAINS
The use of traditional push-bar/button water fountains will be eliminated.

We have installed bottle fillers in every building to allow students to fill/refill their water bottles.

Students will bring their water bottles from home.
PLAYGROUND EQUIPMENT
Playground equipment will be cleaned throughout the day using the Virex disinfectant.

Playground equipment will be disinfected after the school day is over and ready for use the following day.

TRANSPORTATION
Plan adheres directly to the Arkansas Department of Health Guidelines:
All drivers and aides may wear a face covering.

All students may wear a face covering.

Face covering will be available for those without.

Staff will be provided with an additional face shield if desired.

Hand sanitizer will be available at the service entrance to each bus.

Students will be coached to "distance" at bus stops, but the district will not police this.

Upon re-entry to the bus yard, a staff member will be waiting in front of the shop to disinfect

each bus before it is parked. Drivers may exit the bus while this process is taking place and

then park the bus when it is completed. (am/pm)

Mechanics will travel to buildings after the morning routes to disinfect busses that park at those

buildings during the day.

We have 2 buses that park at home in the evenings. These staff members will use spray

disinfectant each evening to sanitize the bus.

Parents will "screen" their children before sending them on the bus.

Staff will "self-screen" before reporting to work.

Any confirmed cases of Covid-19 and/or probable close contact will be reported to Annie

Schanink (RSD Contact).

Staff should avoid congregating in the break room.

Masks may be worn to enter the Bus Shop and Transportation Office.

Per the State Department: "While on buses, open or crack windows if doing so does not pose a safety risk. Keeping windows open, even a few inches, improves air circulation. ADH and ADE also recommend maintaining as much physical distance as possible between riders on the bus. In addition, keeping siblings/household members seated together is also a helpful strategy. Masks are recommended due to the close nature of a bus environment."
STUDENT DIRECTIVES
1. Be at the bus stop 5 minutes before the scheduled time. The bus does not have time to wait for you. While waiting for the bus, students must remain in a safe place away from traffic. Stay off the roadway or highway!! Stand back at least ten feet from the bus stop and wait until the door is opened before moving toward the bus.
2. If your bus is late getting to your stop in the morning, wait until it arrives. If you are tardy at school, go to your principal's office and report it.
3. While loading or unloading, enter or leave the bus orderly and quickly.
4. Do not bring visiting relatives, friends, or pets, to ride the bus. Occasional riders (riding home with a friend; going to grandparents) must have a note from the parent/guardian and signed by the principal in order to ride.
5. After you have been assigned to a bus, do not change and ride another bus without first getting permission from the Director of Transportation.
6. Do not bring large items on the bus or items that protrude into the aisle of the bus. Band instruments that can be carried on your lap are permissible.
7. Any toys or other recreational items (footballs, basketballs, soccer balls, etc.) must be kept in a backpack or some other sort of bag or container on the bus and at the bus exchange. State law prohibits laser lights on the bus.
8. Students are expected to conduct themselves in a manner that will not distract the attention of the driver or disturb other riders on the bus. No food and drinks are to be consumed on the bus.
9. There is to be no profanity or vulgar language on the bus. When you talk, talk in a normal tone.
10. There is to be no scuffling, hitting, or fighting on the bus or at bus stops. If someone is bothering you, report it to the driver.
11. Students are to keep seated while the bus is in motion. Always wait until the bus comes to a stop before standing up to get off the bus.
12. The bus driver has the authority to assign seats.
13. Students are not to tamper with any of the safety devices such as door latches, fire extinguishers, etc.
14. Students are not to put their hands, arms, heads, or any other part of their bodies out the window.
15. Do not ask the driver to let you off the bus uptown, at the store, at the mailbox, or any other place other than your regular stop. He is not authorized to do this. Going to the mailbox before the bus leaves is against state law.
16. If you must cross the road to get on the bus, wait until the bus has come to a complete stop and the driver has signaled for you to cross in front of the bus. If you must cross the road after leaving the bus in the afternoon, go to a point on the shoulder of the road approximately ten (10) feet in front of the bus. Cross the road only after the driver has signaled for you to do so.
17. While riding the bus, students are under the supervision of the driver and must obey the driver at all times.
18. Bullying will not be tolerated in any form on Russellville School District buses. Anyone participating in this type of activity may be suspended from riding all buses.
19. Any activity that is a distraction to the driver will not be tolerated. Students may be suspended from bus riding privileges for distracting activities. The bus driver will report unacceptable behavior to the building principal on a discipline form as seen below.
Multiple offenses WILL RESULT IN LOSS OF RIDING PRIVILEGES.
TO PARENTS: The vandalizing of school buses is a continuing problem. When bus seats and other vandalism repairs have to be made, it costs money. We need your help to stop this waste. A student who vandalizes a bus will be charged the cost of the repair and will be unable to ride the bus until full restitution is made.
UNDER NO CIRCUMSTANCES should a parent or other non-school person, step onto a bus to confront a driver or a student. They should call the office of the Director of Transportation at 890-8561 to arrange a meeting if there is a problem with a student or driver on the bus.
SOCIAL AND EMOTIONAL SUPPORT
Social Emotional Learning (SEL) Plan 2020-2021
District Objective:
Each building will incorporate explicit SEL instruction within the classroom. Specific lessons will be created on a campus-by-campus basis (see examples on the chart below) in a way that minimizes the workload on individual teachers for planning while maximizing building level flexibility. A heavy emphasis will be placed on relationship building with students throughout the district.
The first three weeks across the district will focus on SEL. Regular academic instruction will continue; however, lessons will emphasize SEL skills. This is to both provide additional support during this stressful transition and to rebuild academic stamina of students while teaching tools for emotional regulation, problem-solving, and relationship building.
SEL Focus:
Lessons will be differentiated based on student age, campus needs, and focus areas. An emphasis is being placed on supporting school individuality while providing support using the Mental Health Liaison to guide each building to resources to meet their unique needs.
Supportive Resources:
Staff: Counselors, School Psychology Specialists, Mental Health Liaison, Curriculum Directors These individuals can provide support and guidance with the creation of SEL lessons, support with implementation, and coordination of services across grade levels.
Materials: CASEL, G.U.I.D.E. for Life, Zones of Regulation, Building developed lessons
Examples by building:
| | | | | |
| --- | --- | --- | --- | --- |
| | | | | |
| | Create weekly lessons for Monday Advisory period to cover SEL | Teach Zones of Regulation Across Building; School Wide Book Study on SEL | PD with Mental Health Liaison to prep for lessons in August, Focus on G.U.I.D.E. for Life lessons, Dedicated time for instruction weekly, | Teams using G.U.I.D.E. for Life to embed lessons into the curriculum and for explicit weekly lessons in advisory |
| | Lessons for year developed in June, 2020 | Zones of Regulation began in 19/20. Additional planning in progress | In progress, 4 of 5 grade levels started lesson planning for SEL | |
| | Teacher guided lessons (no prep needed) | Teachers, Counselor, School Psychology Specialist | | |
Teacher Wellness Supports:
Building level PD has been planned to train teachers on SEL and provide teachers with plans/resources based on the building level plan. Building lessons are created as a team and shared across the building to minimize the toll of lesson planning for SEL.
Buildings are discussing ways to support teacher health and wellness. One building piloted teaching stress management strategies monthly as a part of the building PD.
Roll out mental health services for staff including details about the referral process and assurances of confidentiality for individuals seeking support.
Offer wellness trainings, stress management classes to teach specific techniques, and provide small-group support meetings, as needed. These supports will be provided by the Mental Health Liaison or Connections Behavioral Health, as appropriate.
Mental Health Support Request Form
Key Terms
CASEL: Collaborative for Academic, Social, and Emotional Learning. The organization provides a resource for information on evidence-based programs and resources for the implementation of SEL in schools.

CASEL Wheel: Identified core competencies to address SEL in students. These include Self-Awareness, Self-Management, Responsible Decision Making, Relationship Skills, and Social Awareness.

G.U.I.D.E. for Life: Guide developed by the DESE using CASEL core competencies to focus on skills necessary for student success across school, work, home, and in the community. This includes target skill training for: Growth, Understanding, Interaction, Decisions, and Empathy.

Emotional Regulation: Skills that help individuals manage thoughts and feelings, and behaviors in a proactive, socially appropriate way.

Zones of Regulation: A teaching approach to identify and apply regulation skills to build self-regulation and emotional control.

PBIS: Positive Behavior Interventions and Supports. A framework to view data and practices to guide buildings in the creation of safe and supportive academic environments. PBIS is not a specific program, but rather, a way to evaluate needs and apply strategic interventions to address student SEL needs resulting in greater academic gains and improved student emotional regulation, engagement, and behavior.
RESOURCES AVAILABLE:
Mental Health Support Request Form
DISTRICT COMMUNICATION PLAN
RSD is committed to providing families, employees, and our community with timely and accurate information. There will continue to be regular district-wide updates through school messenger when needed.

RSD's district website and its social media accounts; Facebook and Twitter will stay up to date to deliver information in a timely manner.

Follow us at www.rsdk12.net.
Important information and updates will be available on individual school websites and social media accounts as well. Building leaders may utilize School Messenger to deliver information to parents and staff as needed throughout the school year.
To receive information from RSD and your student's school through text or voice message please give your preferred contact information to your student's school during e-school registration at the beginning of the new school year.
Comments from patrons, parents, students, and staff will be monitored closely, and any statements perceived as disrespectful towards an individual(s,) aggressive or violent in nature, or unproductive to the conversation at hand will be removed from the discussion, indefinitely.
Local media outlets partnered with RSD:
River Valley Now https://www.rivervalleynow.com/
Cyclone Booth https://www.youtube.com/channel/
River Valley Radio http://www.rivercountrykcjc.com/
The Courier https://www.couriernews.com
Contact Rachel Jones, District Communications Coordinator, rachel.jones@rsdk12.net, or at 479.968.1306 for assistance.
[BACK TO TOP]
DINING SERVICES

All breakfast and lunches will be provided to students for free.
SAFETY AND WELLNESS
RSD NURSING STAFF WILL CONTINUE COORDINATING WITH LOCAL, STATE, AND FEDERAL GOVERNMENT AGENCIES INCLUDING ADH.
SCHOOL NURSES WILL SERVE AS THE PRIMARY POINT OF CONTACT FOR THEIR BUILDING COVID-19 RELATED QUESTIONS. THEY WILL CONTACT MRS. ANNIE SCHANINK, OUR DISTRICT POINT OF CONTACT.
District Primary Point of Contact: Annie Schanink, Nurse Coordinator,
Sequoyah Elementary
annie.schanink@rsdk12.net Phone: 479-968-1306

District Secondary Point of Contact: Vicky Mistler, School Nurse,
Dwight Elementary
vicky.mistler@rsdk12.net Phone: 479.968.1306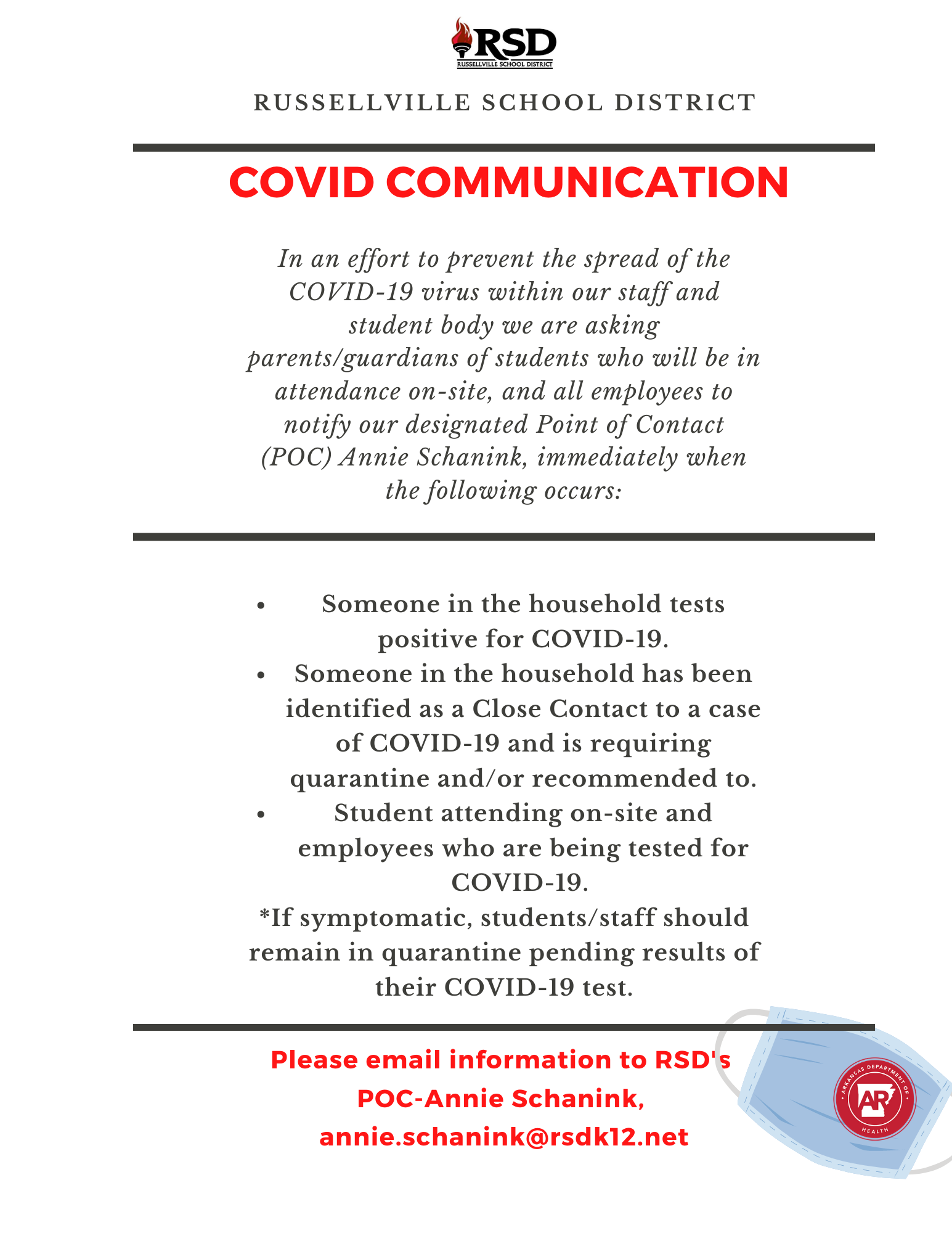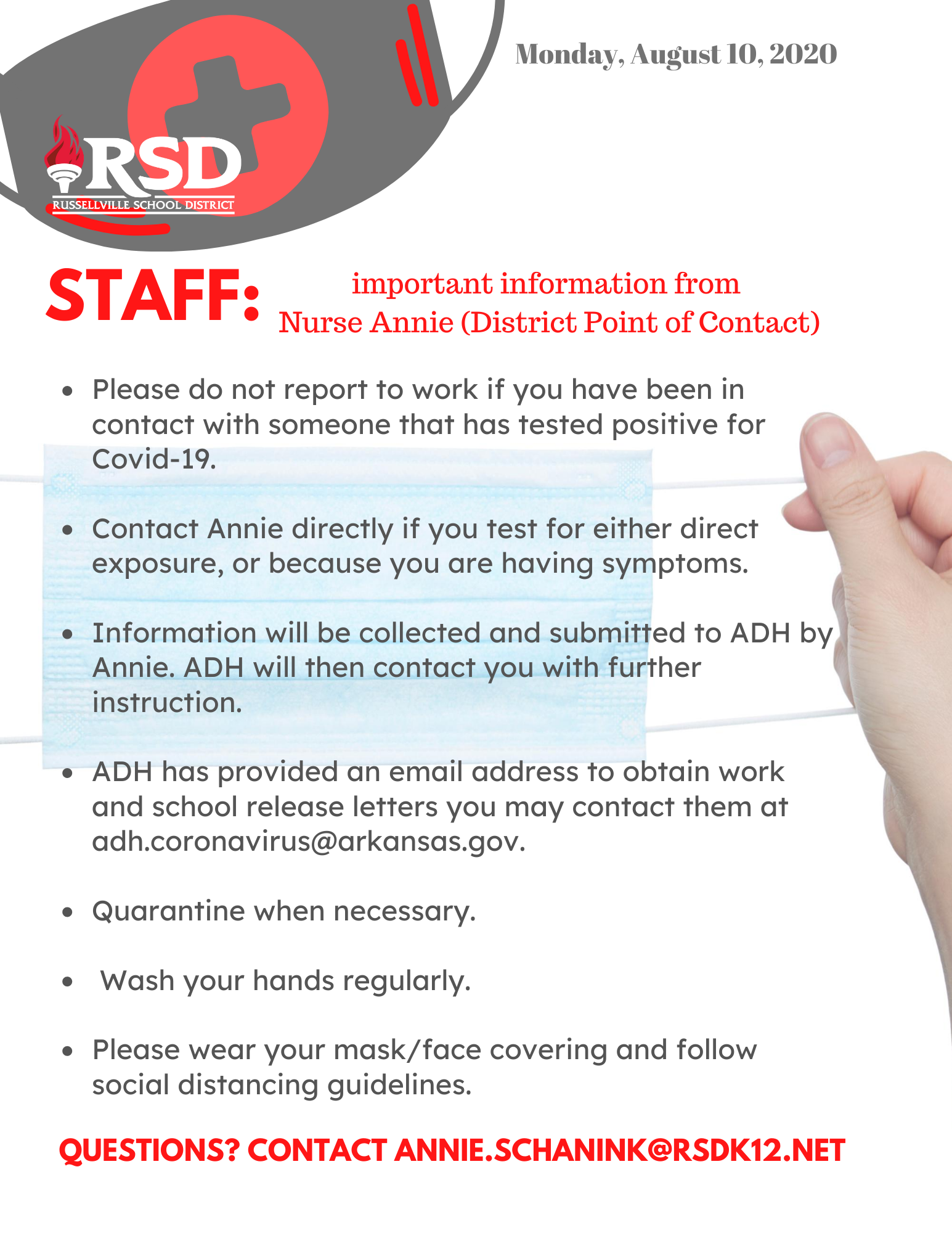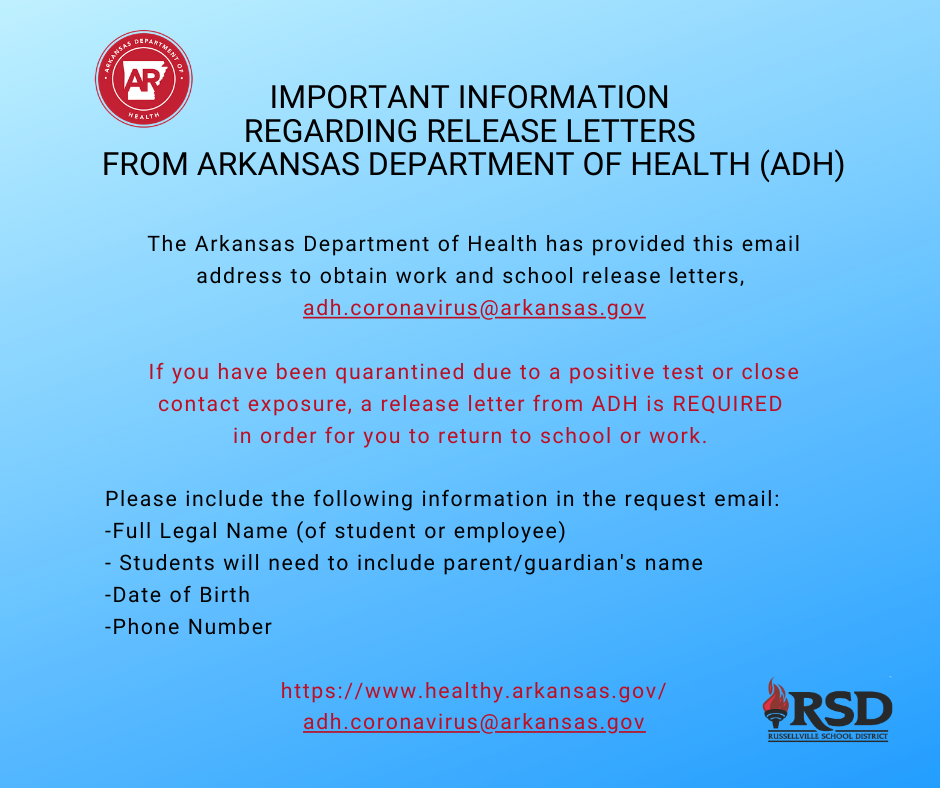 BLENDED LEARNING OPTIONS
Description: RSD enrolled students may attend on-site or off-site throughout the semester; however, at any time, a student may be required to stay at home due to RSD's ongoing needs assessment of COVID-19. Learning continues through our learning management systems, with the assigned RSD teacher and support.
Blended learning focuses on the essential learning at each grade level.
Printable Version (English) - Printable Version (Spanish)
Learning Management Systems:
See-Saw (K-1), Google Classroom (2-12), iLearn/Google Classroom (RHS)
Parents: You will choose whether your children will start the year at school, or at home; new learning will occur at each location.
There will be new learning for each grade level/course, whether at home or school. (not AMI)

RSD will provide every K-1 student with an iPad, every 2nd-7th student with a Chromebook, and every 8th-12th grader with a laptop.

Hot spots will be available for those who need internet access.

Students will have to submit all work by the teacher's deadlines in order to be counted "present" for attendance when learning from home. Students do not have to get online at the same time as in school, but they must meet all assignment submissions to be counted "present" for attendance.

Students can work at their own pace through the lessons, as long as they meet assignment deadlines when working from home.

If materials are needed for some elective courses (art, etc), arrangements will be made if possible when choosing to learn from home.

Both of these options are available for all students, including those with special education. If your child requires additional accommodations or modifications, please reach out to the school or Brittany Turner at 890-5733 to schedule an IEP meeting so we can meet your needs.
Anytime students are choosing to be at home to learn, they may still come to the school for certain extracurricular activities or as needed. If students are required to be at home for COVID19 reasons, they may not come up to the school.
However, if neither of these options works for your family, we now have Option C available.
Option C: Virtual Learner with Cyclone Virtual Academy. This will be a 100% online curriculum using Lincoln Learning for K-8 students and Virtual Arkansas for 9-12. Your child will be assigned an RSD teacher to provide support and feedback for all their instructional needs for all k-8 students. Grades 9-12 will be assigned a teacher through Virtual Arkansas.
Please contact Bryan Swymn, RSD Digital Learning Supervisor, at Bryan.swymn@rsdk12.net for more information.
For any further questions, you may contact your child's building principal or our Directors of Teaching and Learning below:
Barbara McShane for Sequoyah Elementary at 479-968-2134 or barbara.mcshane@rsdk12.net
Krista Malin for London Elementary at 479-293-4241 or krista.malin@rsdk12.net
Sheri Shirley for Oakland Heights Elementary at 479-968-2084 or sheri.shirley@rsdk12.net
Laura Binz for Dwight Elementary at 479-968-3967 or laura.binz@rsdk12.net
Tami Chandler for Center Valley Elementary at 479-968-4540 or tami.chandler@rsdk12.net
Shavon Jackson for Crawford Elementary at 479-968-4677 or shavon.jackson@rsdk12.net
Cathy Koch for RIS at 479-968-2650 or cathy.koch@rsdk12.net
Sarah Monfee for RMS at 479-968-2557 or sarah.monfee@rsdk12.net
Matt Kordsmeier for RJHS at 479-968-1599 or matt.kordsmeier@rsdk12.net
Al Harpenau for RHS at 479-968-3151 or al.harpenau@rsdk12.net
Karie Turney for K-4th curriculum at 479-968-5216 or karie.turney@rsdk12.net
Judy Pennington for 5-12th curriculum at 479-967-6051 or judy.pennington@rsdk12.net
Bryan Swymn for Digital Learning Supervisor at 479-219-5355 or bryan.swymn@rsdk12.net
ONLINE ENROLLMENT INFORMATION

We are excited to have a great starting point for families to be able to fill out the majority of information needed for enrolling students in our district available from any internet-connected device.
Guardians of NEW students can create an account and enroll their students using these links:
https://registration.powerschool.com/family/gosnap.aspx?action=23580&culture=en (English)
https://registration.powerschool.com/family/gosnap.aspx?action=23580&culture=es (Spanish)
Guardians of returning students will need a unique login to your student's snapcode to be able to verify and update existing information. Emails and/or letters with these codes will be sent out by all schools. Please contact your student's school office with any questions. Returning student data is available for review, and can be updated as needed.
Frequent Questions Asked?
Online enrollment is completely separate from your choice of blended learning options- A, B, or C.

This system doesn't cover other forms needed from families, such as ESL, GT, etc. Call your school for information.

Every building has staff ready to help you with questions.
For general help with the system, the providing software company PowerSchool can be contacted by email: support@infosnap.com, or phone: (866) 752-6850, Monday through Friday, 7-4 pm.