In 2015, Aramark became the food service provider for Russellville School District. Aramark focuses on helping students and districts flourish by providing nutritious, student-friendly menus that promote wellness and meal participation in an inspiring environment. Aramark provides breakfast and lunch options at all RSD schools.
Other programs include Breakfast in the Classroom at our elementary schools, Grab and Go carts at our secondary schools, a smoothie bar at RHS, and a Summer Meal Program that provides free breakfast and lunch meals for students under 18.
Each child will receive one lunch and one breakfast for free each of the 5 school days.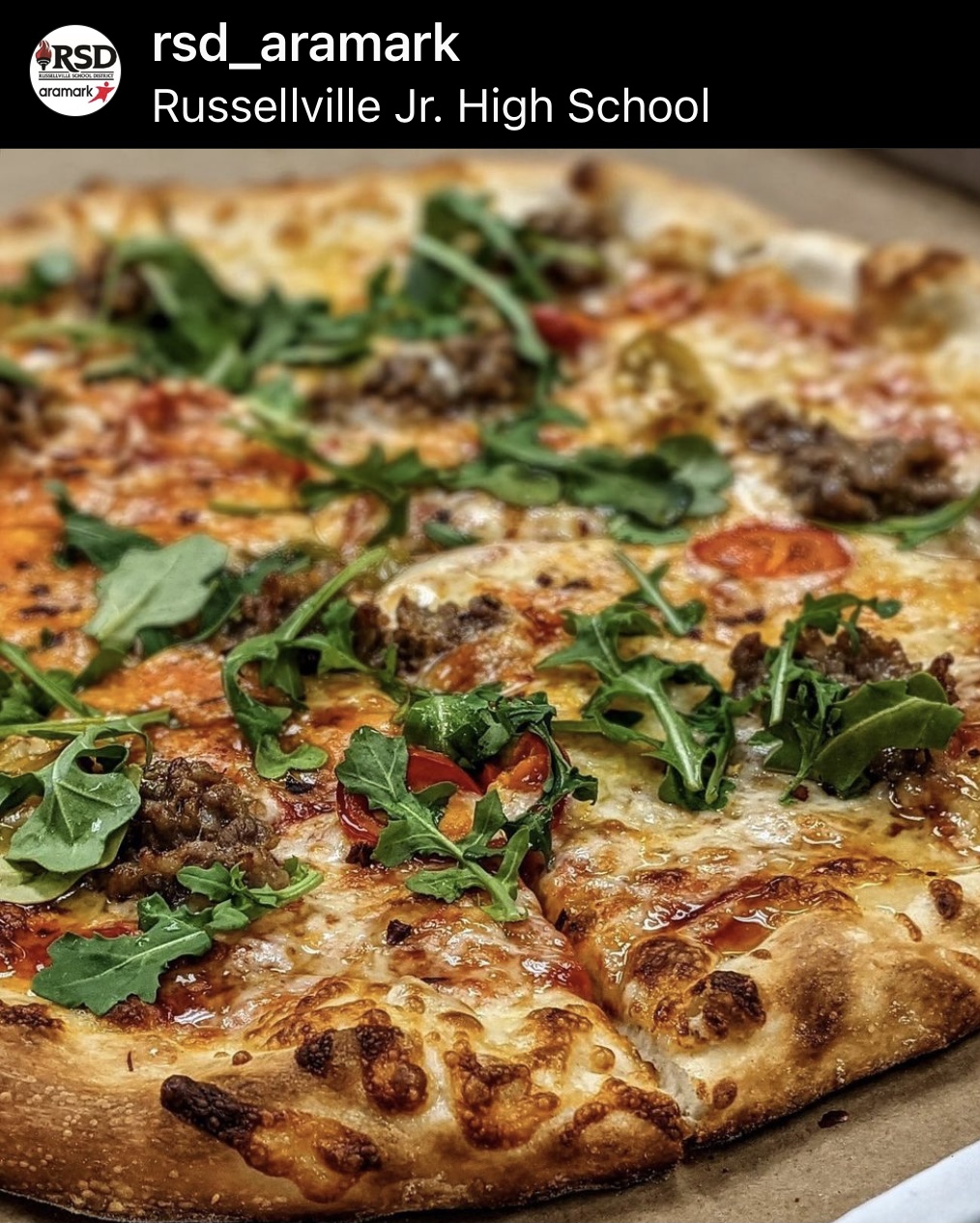 Breakfast and Lunch will be free for the 2021-2022 school year to every child
Delivering nutritious meals with a variety of exciting flavors and choices keeps students excited about their school dining programs. Aramark offers a wider selection of menu options including a variety of fruits and vegetables each day of the week, increased entree choices geared to student age level, and different menu options on each day of the monthly menu cycle.
Aramark also complies with current USDA requirements and the National School Lunch and Breakfast Programs. Menus are designed to meet or exceed the requirements of the Healthy, Hunger-Free Kids Act of 2010, as well as state and local regulations.
Cool Caf mascot, ACE the Fox, communicates and reinforces the importance of good nutrition and exercise to our elementary school students.
We also celebrate holidays throughout the year, including Halloween, Thanksgiving, Valentine's Day, Read Across America, Cinco de Mayo, and many more!
The Tines feature monthly promotions with our FUEL program.
FUEL features on-trend, limited-time-offer promotions that are not only delicious but designed to increase student participation.
RJHS AND RHS MEAL OPTIONS:
Students at RJHS and RHS have many options to choose from when it comes to lunch. Students will be able to choose between five food court style menu options that include:
Custom Bros Grill Company gives students the chance to express themselves by creating their own masterpieces. We provide all the components and students design their own unique flavor combinations.

Green Street Deli is about bold flavors and fresh ingredients built on a sub roll baked fresh daily. Or, you may choose a whole-wheat tortilla wrap.

Tortilla a fresh Mexican concept is all about creating a distinctive dining experience through imagery and fresh ingredients. Tortilla is about being authentic—no doubt about it—and nothing says that more than great-tasting Fresh Mex.

Corner Crust Pizzeria brings students' favorite corner pizza shop to school. We offer classic items with innovative flavors, made fresh daily in our own kitchen.

Home Zone highlights entrée style items, featuring international specialties (including Asian offerings) and regional favorites (such as comfort foods).
MEAL DISTRIBUTION INFORMATION
VIRTUAL MEALS SOP
Meals will be provided to virtual students who opt-in by completing the weekly sign-up form. The form will be emailed to parents and guardians of virtual students, and will also be available on the Russellville School District K12 Website for easy access.
Parents will be notified that these meals will be charged to the student's account, as though the student was in school, based on their Free/Reduced/Paid status.
Parents will fill out the virtual form by 2 pm the day prior to service. This will allow the information to be collected and distributed to each location for next-day service. The form will allow parents to complete information for all school-age children in their household.
Please list who is picking up the meal for their child, it will be noted for the cafeteria personnel so that they can ensure that the meals are going to the proper person/child.
A Child Nutrition administrator will ensure that the parent/guardian filling out the form is listed as a guardian for the child listed in the form. Administration will also fill in the student's
ID number if it is missing from the form. The Child Nutrition administrator will fill in the 'meal pick up form' for the school that the child attends and indicate the child's name and which days they will be picking up meals.
Although the sign-up form will indicate how many meals the cafeteria is to prepare and have available, meals will be charged daily based on who picked up meals. If meals are being signed up for but not picked up, an administrator will reach out to the parent/guardian to ensure that these meals are needed, and make alternative arrangements where necessary.
If parents have children at multiple schools due to zoning or grade level, These meals will be noted on the form in the school the child is assigned to for charging purposes.
We will maintain 40 degrees or lower on all potentially hazardous foods leaving the kitchen. Each child will receive one lunch and one breakfast for the 5 school days.

Cashiers will ensure that no child in the Virtual program is charged for a "second meal" unless specifically ordered at the $3.85 rate.
Meals will be available at set times at the location and will be picked up at a designated location determined by the principals at each location. Detailed information about pick-up times/locations will be available on the Russellville District website.
Additional meals for adults or children not enrolled in the program will be charged at the adult price. Funds must be available at the time of pick up for the additional meals.
* PLEASE COMPLETE THE MEAL SURVEY QUESTIONNAIRE BEFORE FILLING OUT THE SIGNUP FORM.
Please fill out this form for all school-age children you will be picking up for. If you have more than 10 school-age children in your home please reach out to Kay Haulmark at 479-498-8836 or kay.haulmark@rsdk12.net

Please note: This form must be filled out by 2 pm the Thursday prior to the following Monday for pick up. Meals will be distributed on Monday each week at RJHS (west end of building) from 0930-1030. If you have missed the 2 pm deadline and need to order meals please call the kitchen @ 479-968-2756.
Meals will be accounted for based on students free or reduced eligibility, or paid.