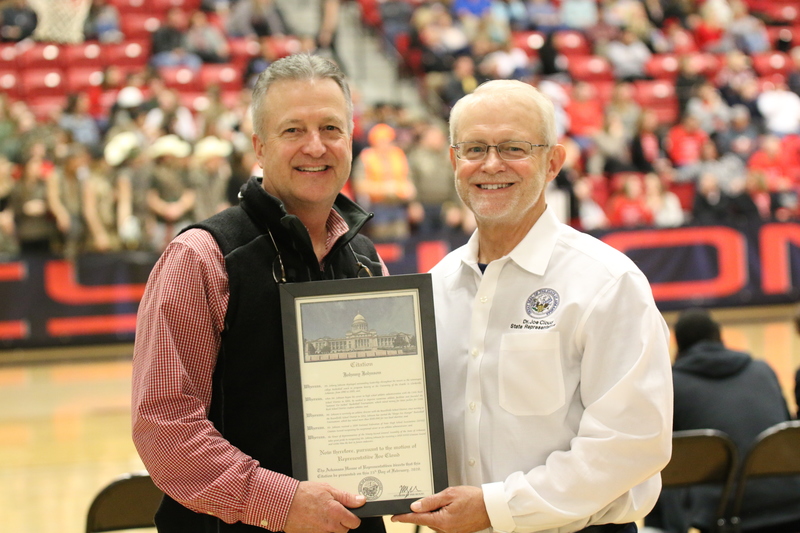 On Tuesday, February 25, 2020, Representative Joe Cloud presented RSD's athletic director Johnny Johnson with an NFHS citation at RHS senior night at Cyclone Arena.
NFHS Citations are presented annually to outstanding athletic directors in recognition of contributions to interscholastic athletics at the local, state and national levels.
After 11 years as a successful college basketball coach at the University of the
Ozarks, Johnny Johnson, CMAA, began his career in high school athletic administration
in 2001.
His 18-year career began with his hometown Little Rock (Arkansas) School
District in 2001, and he is currently in the same position with the Russellville (Arkansas)
School District.

Johnson led the University of the Ozarks to a 173-126 record – the best in school
history – and the Eagles appeared in two NAIA National Tournaments.
The Little Rock School District was the largest in the state when Johnson arrived in
2001. While there, he worked to improve numerous athletic facilities, started playing
high school basketball games in what is now Verizon Arena in North Little Rock, and he
founded the "Jammin' For Jackets" Basketball Tournament to raise money for letter
jackets for Little Rock School District student-athletes.
Since moving to the Russellville School District in 2012, Johnson has started the "Hoops For Hunger" Basketball Tournament, which has raised more than $200,000 for two local charities. Johnny was instrumental in the conversion of the old Gardner Jr. High building into an indoor
practice facility for spring sports; the construction of the new Cyclone Arena, and the
new Multipurpose Indoor Facility.

Johnson was president of the Arkansas High School Athletic Administrators
Association (AHSAAA) from 2007 to 2009 after serving as vice president (2005-07),
secretary (2003-05) and program chair (2001-03). From 2009 to 2011, Johnson was the
AHSAAA's liaison to the Arkansas Activities Association (AAA) Board of Directors.

Johnson has been a tremendous contributor to the AAA as a tournament host. He
has been tournament director for AAA state championships in tennis, golf, softball,
soccer, basketball and track.
He also has taught Leadership Training classes at the AHSAAA state conference, and has led an annual seminar for new athletic directors.

In addition to the AHSAAA Distinguished Service Award, Johnson has received
national recognition as a recipient of the NIAAA State Award of Merit. A member of the
NIAAA Board of Directors since 2017, Johnson has completed 25 Leadership Training
classes and has attended 15 national conferences.
Congratulations to Mr. Johnson and his family!