Cyclone Theatre is proud to announce their fall play, Oscar Wilde's "The Importance of Being Earnest." This Victorian comedy is filled with satire, wit, and high comedy that will leave you with a bag of quotes for your next dinner party. Join us at The Center for The Arts BlackBox Theatre this Thursday and Saturday at 7 pm and Sunday at 2 pm. Due to a home football game there will not be a performance Friday night. Tickets are $3 for students and $5 for adults and will be sold at the door.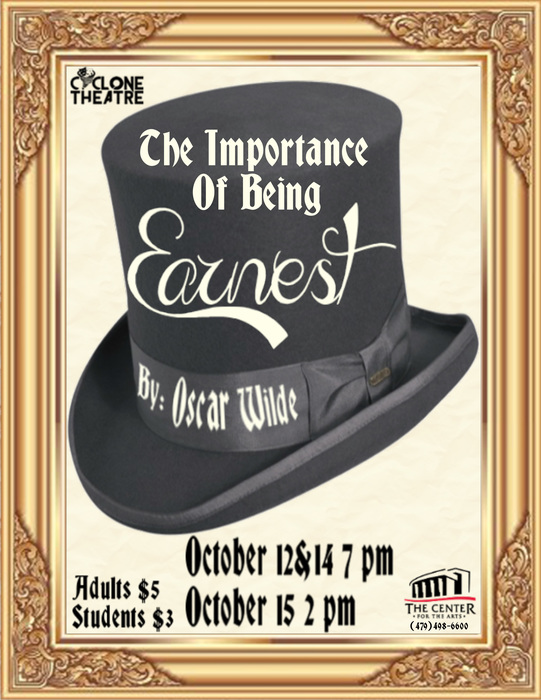 Students in the Junior ROTC program at Russellville High School got the opportunity to visit with Congressman Steve Womack today.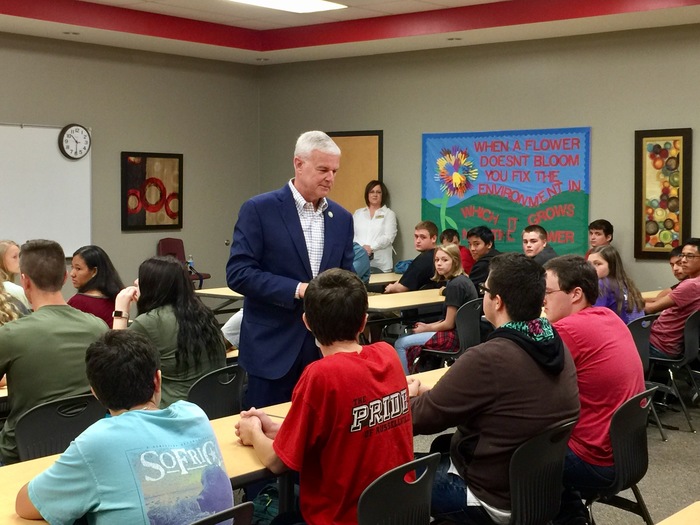 The RSD October School Board Meeting is scheduled for Tuesday, October 17, 2017 at 7 p.m. in the RSD Administration Building Board Room.

The Hispanic Heritage Club at Russellville High School will host a Hispanic Heritage Annual Feria on Wednesday, October 11, at 6 p.m. in the Russellville High School Cafeteria.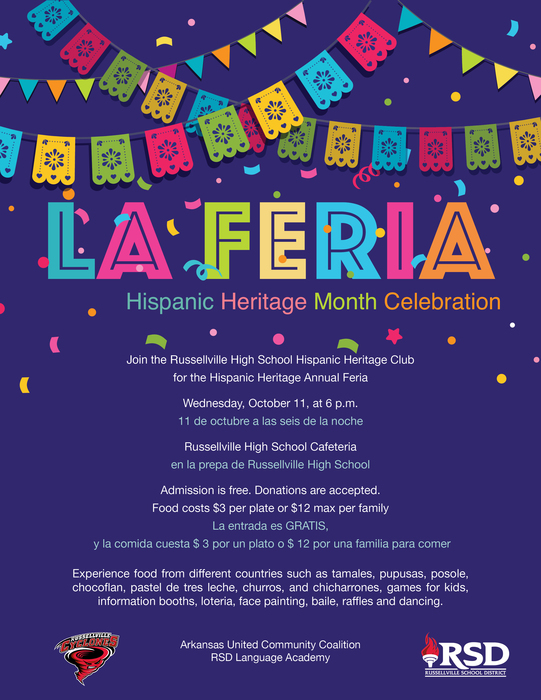 There will be a Called Board/Policy Committee meeting on Thursday, October 5, 2017, at the Administration Building at 8 p.m.  The agenda is available to view with this link:
http://5il.co/2143

Reminder: The Twitter Town Hall with Dr. Gotcher will begin at 6:30 p.m. on Twitter. If you don't have Twitter or do not want to participate in the Town Hall you can answer the questions in our online survey. #RSDListens
https://www.surveymonkey.com/r/RSDListens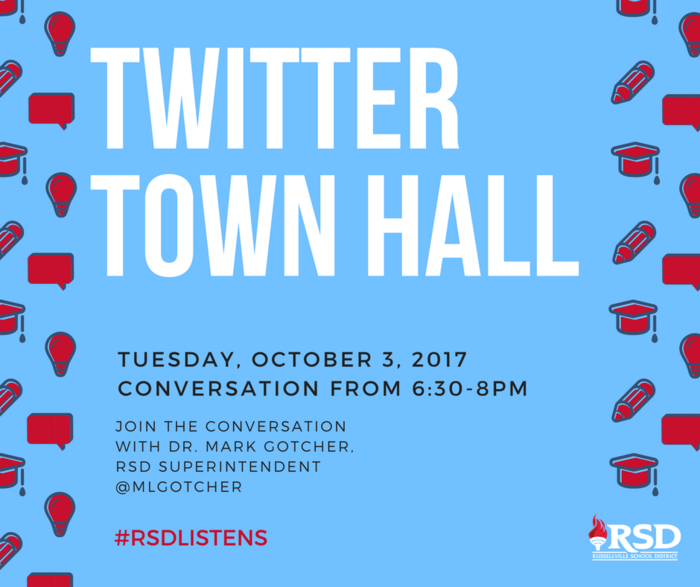 Congratulations to our 2017 Hall of Fame inductees.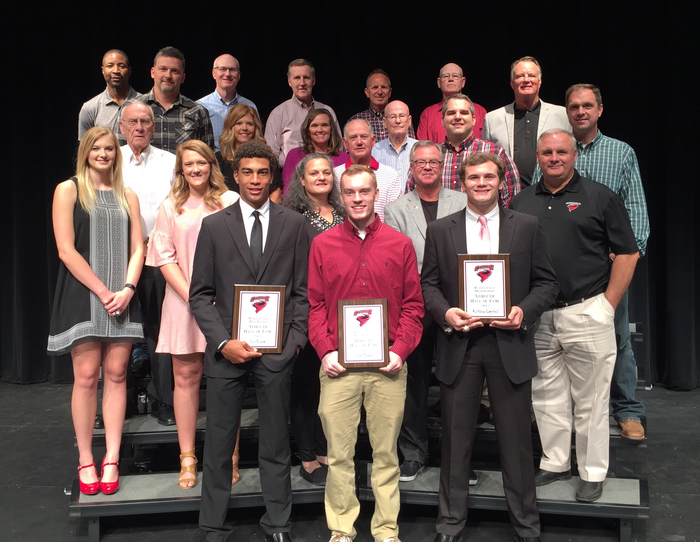 The September 19, 2017 regular school board meeting agenda has been posted to the State-Required Information page of the RSD website. The meeting will begin at 7 p.m. in the RSD Administration Building. You can view the agenda by clicking on the link:
http://5il.co/1y70

This weekend, Dr. Gotcher spoke to members of the Latino community at the Missionary Festival, where he spoke about the importance of leadership among the Latino community in our district. This speaking engagement was part of Dr. Gotcher's Listen and Engage Plan that includes meetings with parents and community members in the River Valley. Check out the video presentation by clicking on the link here
https://youtu.be/Pf7lWw52bGI
. #RSDListens

The Child Nutrition Department would like to remind parents that a new application must be filled out each year to qualify for free and reduced meals. If you have not filled one out for the 2017-18 school year please fill one out as soon as possible. You can complete an application online at
http://russellvillesd.nlappscloud.com
or obtain a paper copy from your child's school.

Reminder: No school on Monday, September 4, for the Labor Day holiday. Classes will resume on Tuesday, September 5. The district wishes everyone a safe and happy holiday.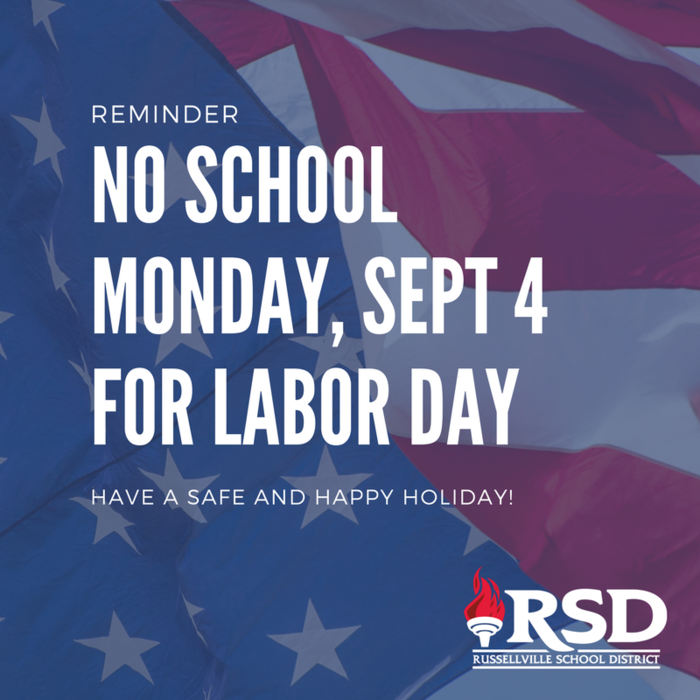 The RSD September School Board Meeting is scheduled for Tuesday, September 19, 2017 at 7 p.m. in the RSD Administration Building Board Room.

RSD students across the district are experiencing the eclipse today.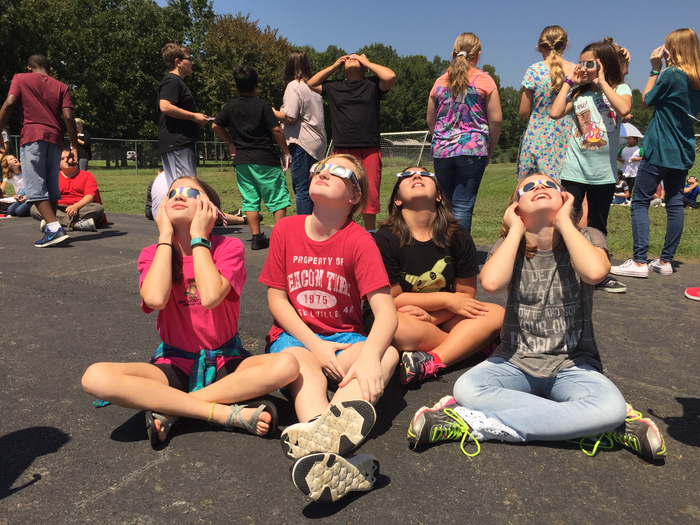 KARK 4 visited Crawford Elementary today to check out the eclipse glasses our students will be using on Monday during the eclipse. Check out the story tonight at 5 pm.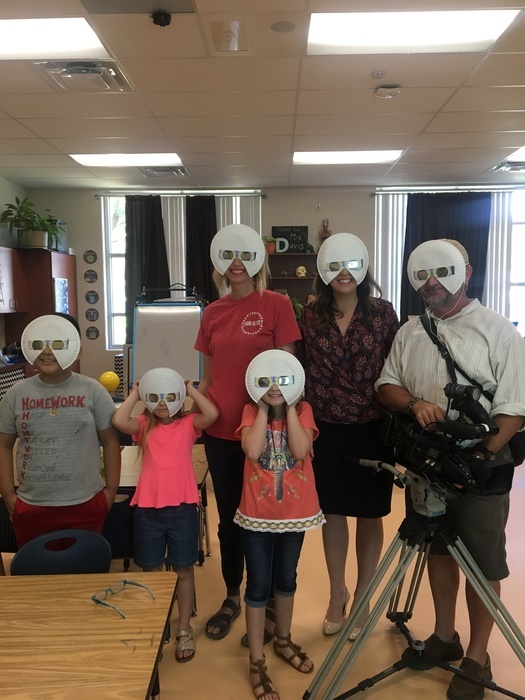 The tradition begins...#RSDbowtiefriday

RSD students and staff are encouraged to use caution when traveling to school today. If necessary, the district will excuse any tardies this morning due to flooding.

Russellville School District buses will be running their normal routes this morning, but delays are expected due to inclement weather. If roads appear to be unsafe due to flooding, buses will not attempt to pickup on that road.

Russellville School District is now accepting Free and Reduced Meal Applications for the 2017-2018 school year. These applications can be picked up at the Administration Building located at 220 West 10th Street, or found under the Documents section on our site. This year, parents/guardians can also fill out and submit the applications online at
http://russellvillesd.nlappscloud.com
.

This week we welcomed 49 new teachers to the district at New Teacher Academy. The new teachers met with administrators and their mentors, learned about district policies and procedures, and participated in team building activities. We are excited to have these new members on our team!

The July 25, 2017 regular School Board meeting agenda has been posted to the State-Required Information page of the RSD website. The meeting will begin at 7 p.m. in the RSD Administration Building. View the agenda here:
http://5il.co/1ipv